This recipe belongs to my friend Husnora. She is a photographer herself and loves taking all kinds of beautiful pictures in her spare time. Husnora lives in Turkey, one of my dream destinations of all time. Turkish culture, food and its mother nature mesmerizes me. So, I decided to start adding more recipes from the Turkish cuisine. I asked Husnora to write a simple recipe and we decided this simple breakfast meal would be a good jump start and inspiration for me to post more Turkish recipes. Breakfast Eggs and Sausage Recipe may not be something extraordinary, but it never hurts to be more simple, right?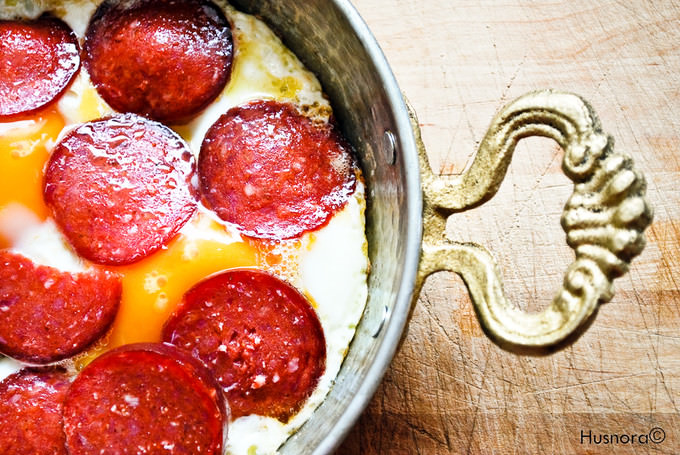 It is cooked in special Turkish skillet called Sahan. Since I've never tried it myself, I cannot tell you if it tastes any differently than using a regular frying skillet. But Husnora says, you can definitely substitute them. Because of its shape and relatively small size and the deeper bottom, the volume of the fried eggs in Sahan is thick, unlike the regular skillet fried eggs. The yellows of the eggs sink in the middle of the egg whites, cushioning the yolks from all sides. Apparently, this keeps the yolks soft and good to dip with bread

Yield: 2 servings
Ingredients:
1 Tbsp butter
2 eggs
50 grams of sausage (Turkish sucuk is used in this particular recipe)
pinch of salt
Directions:
Cut the sausage in 3 mm thick circles. Place the Sahan on the stove top. On small heat melt the butter. Once the butter is well melted, crack two eggs. Be careful not to damage the egg yolks. place the sausages on top of the eggs carefully. Sprinkle the pinch of salt and close the lid of the Sahan/skillet. Let it stand until you hear frying like sound, for approximately about 5 minutes. Make sure the heat is not too high. Otherwise the bottom of the eggs will burn and the top will not be cooked enough. Serve while still hot! All done!!

Bon Appetit!