There are many foods nutritionists recommend eating due to their high content of certain minerals or vitamins. The problem with some of them is that they may not taste that well to some of us, or are too difficult to cook, or too expensive to consume on a regular basis. However, there is definitely one food that doesn't have these problems: it is asparagus.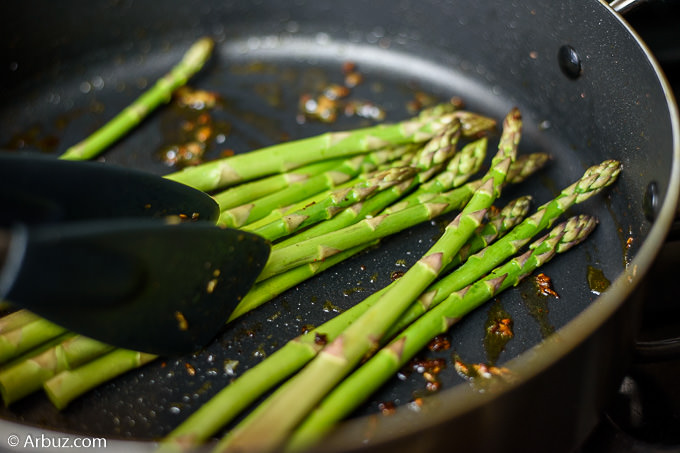 It is very beneficial for your health as it is a good source of antioxidants and is rich source of vitamin B complex, extremely easy to cook, can be added to almost any dish and tastes really nice. Plus, it is not too expensive. And most importantly, it is a very low calorie vegetable :)
Asparagus has been long known to humans. Ancient Egyptians consumed it five thousand years ago. Ancients Greeks ate it. Ancient Romans ate it too. It has been very popular in India and was included in Ayurvedic medicines. It is available throughout the world nowadays, and can be bought anywhere from supermarkets to the farmer markets. You can buy it in different forms: fresh, frozen, canned, pickled. The regular growing season lasts from January-February until May-June.
Asparagus can grow up to 40 inches (1.5 meters) tall but only young sprouts are consumed as older plants have a "woody" taste. People usually eat young plants that are up to 8 inches (20 centimeters) long. Currently, China dominates the asparagus market as the largest producer and supplier in the world. Peru is the second largest asparagus producer. US also grows asparagus and exports some of its produce to Canada; however, US is still the net importer.
Eating Asparagus
There are many ways you can eat asparagus: fresh, boiled, steamed, stir-fried, deep-fried, oven-baked, grilled, and pickled. Even if you are not going to eat it fresh, you can cook asparagus in a matter of minutes. Because of its fine taste, asparagus may be added to supplement almost any dish: salad, meat, chicken, fish, prawns, you name it. It will also make your dish look better!
Health Benefits of Asparagus
Asparagus has so many health benefits that is almost a "sin" not to eat it regularly :) It has a good combination of vitamins, minerals and other ingredients; it has amazing antioxidant and anti-inflammatory properties. Asparagus shoots have been long used in many alternative medicines to help irritable bowel syndrome (IBS).
Vitamin B complex: Asparagus is a good source of vitamin B9, a.k.a. folate (essential during pregnancy and in infancy), vitamin B6 (important for nutrient metabolism, synthesis of various organic compounds) and other B vitamins.
Vitamin K and others: It is an excellent source of vitamin K (important for heart, strong bones, blood clotting) – a 3.5 oz of asparagus contains almost half of your daily requirement. Asparagus also contains moderate quantities of vitamins A, C and E.
Minerals: The list of minerals that asparagus contains is impressive as well. It is a good source of iron and also contains zinc, phosphorus, selenium, copper, manganese, calcium, and many other minerals.
Fiber: Asparagus is rich in dietary fiber, including soluble fiber. Fiber is good for your bowel movement, heart, weight loss, and blood sugar levels.
Phytonutrients: Asparagus contains asparanin A, sarsasapogenin, protodioscin and diosgenin (together, saponins). Saponins are believed to have anti-inflammatory properties. They also help with maintaining healthy levels of blood sugar and blood pressure.
Prebiotics: Asparagus is an excellent source of inulin, a type of carb that feeds beneficial bacteria in your gut, including Bifidobacteria and Lactobacilli. Therefore, asparagus helps to better absorb nutrients and, potentially, reduce the risk of allergies.
Antioxidants: Glutathione, which is found in asparagus in good quantities, together with other minerals and vitamins, give asparagus its antioxidative properties.
Amino acid: Asparagine, an amino acid named after asparagus, help insulin to remove excess glucose from the blood.
Low calories and sodium: You will not feel guilty after eating asparagus even if you are obsessed about the calories. It has only 20 Calories and 2 mg(!) of sodium per 100g (3.5 ounces).
Diuretic properties: Asparagus facilitates urine production. Its diuretic properties help to lower the blood pressure and prevent formation of kidney stones.
As with any other food, there are things that you should be aware about asparagus. Some people have smelly urine after eating asparagus. This may be due to ammonia and sulfur-containing post-metabolization products that are excreted by the body. However, no health risks due to this "smelly" urine have been identified.
So, why not add asparagus to your regular menu and enjoy its fabulous taste while also benefitting from its nutritional properties?
Sources:
http://nutritiondata.self.com/facts/vegetables-and-vegetable-products/2311/2
http://www.livescience.com/45295-asparagus-health.html
http://www.whfoods.com/genpage.php?tname=foodspice&dbid=12
http://www.mercola.com