Working out from the comfort of your own home has some great advantages compared to exercising in a public gym. For the past 12 years of my fitness endeavor, I've tried different approaches to exercising and went through a number of gyms and home workout programs. In this article, I want to write about the biggest advantages of exercising from the comfort of your own home and how you can do so effectively.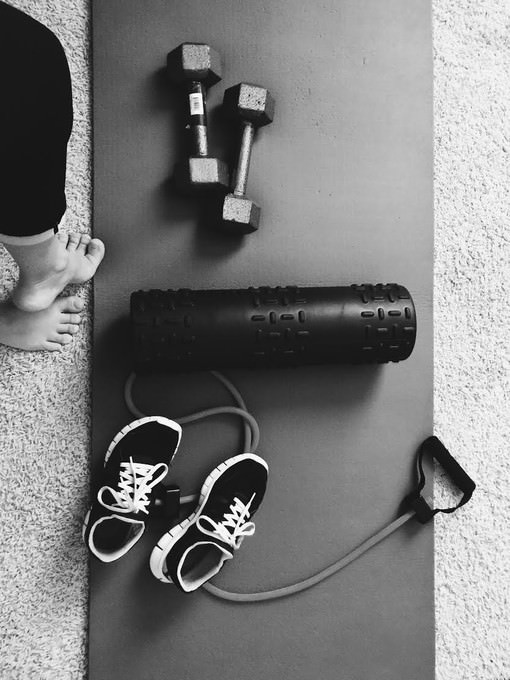 Who can Exercise at Home?
Exercising from home can be beneficial to virtually any person but more so to mothers, who can rarely sneak out from home to dedicate some time to their own health and fitness. Those who work heavy shifts and extended hours will benefit from exercising from the comfort of their own living room as their schedules allow. There are also people who are introverts by nature and they feel more comfortable exercising privately in their own gym versus a gym full of other people.
Flexibility and Freedom
Exercising from home gives a great deal of flexibility in terms of choosing an appropriate style of workout. If a person wishes to do interval training, following it up with a class of yoga and stretching, she/he can do so without having a hard time finding appropriate space and environment in order to complete the given task. Freedom of being able to choose the timing for your exercises any time of the day also lowers the chances of skipping a workout, thus falling out of the 'fitness wagon'. I am also a proponent of using home-based workout programs. If you purchase such programs, you will also need to have means to be able to play these programs on a monitor and exercise by following the lead instructor. You need space, a proper environment and full dedication. This is only achievable if you have freedom to chose when to exercise, where to exercise and how to exercise without disturbing or distracting anyone else.
Better Concentration, Better Results
If you are a person who gets easily distracted by people around you, know that you are not 100% vested in your exercise regimen for that day. It is proven that correct contraction and concentration on the muscle group which is being worked on increases the likelihood of achievement of greater results. Working from home grants you an opportunity to fully commit to your daily workouts without worrying about others around you and relieves you of a thought that someone might be watching your every move. This is a great opportunity for you to see the desired results you've been working so hard to achieve.
No Waiting in Line for the Equipment
If you exercise after work, chances are you will catch a 'rush hour' at the gym and will have to wait for certain equipment to be available for your use. Maybe you have a favorite treadmill to become vacant in hopes of squeezing in a fun cardio session. When you are doing super sets, circuit or interval training, which involve multiple equipment types, the last thing you want is to have a very big break between sessions. This makes it impossible to work in the gym and athletes often look for other alternatives. When you choose to invest in having a small home gym, you also buy yourself a guaranteed spot to use your favorite equipment as your heart and your schedule desire.
Always Available Despite Time or Weather Conditions
Blizzard? Snow? Midnight? Too early in the morning? If you exercise from home, you will have no problem facing those dire time or weather conditions. That's right, no snow day off from exercising.
Hygiene
When you do not share equipment, yoga mats, benches, dumbbells, exercise balls, etc., you do not worry about touching someone else's sweat or germs. When you chose to exercise in the gym, carrying around your own equipment is not practical. So, the only option is to either always wipe the equipment before you use it, or to carry around a towel to place under you before your start exercising. A great way to avoid such nuisances is to make a functional workout area inside your home, which will last you a lot longer and will give you a piece of mind that you are free of someone else's germs.
Not as Costly and Portable
It might sound like having a home gym is an expensive idea. But you do not have to pack your workout area with every possible equipment you might rarely or never use. Invest in equipment that will perform multiple tasks. Choose an exercise regimen which might be smaller in size but does not sacrifice in performance. In the long run, your investment in your home gym vs. membership of the gym might be way minimal than you might initially think.
Portability of exercises I choose is very important for me, as I travel quite a bit. I can pick up my exercise videos, my minimal equipment and travel with them without skipping days and compromising my progress gained thus far.
As you can see, there are great benefits to exercising in the comfort of your own home!