During our curtain hanging process a couple of weeks ago, we discovered a treasure hidden in a box, at the far corner of the balcony. It is not money, jewelry or an expensive artifact of any type. But the long road my husband travels to buy these delicious honey crisp apples is priceless. I was shocked that I forgot about their existence in our house. Surprisingly, honey crisp apples hold up pretty well, for up to 5 months, if stored properly.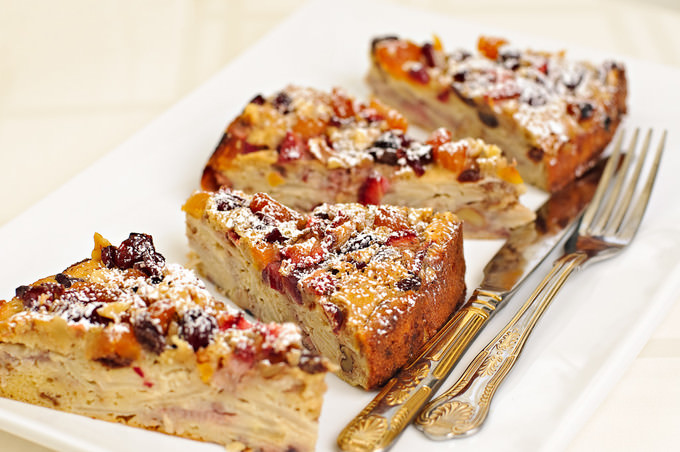 I decided to make this pie, knowing how much my family would appreciate it. What I like the most about this particular recipe, is the the variety of ingredients, which keep the pie interesting and way far from being boring. See it for yourself. The pie came out heavenly! Next stop is most likely Apple Cider :)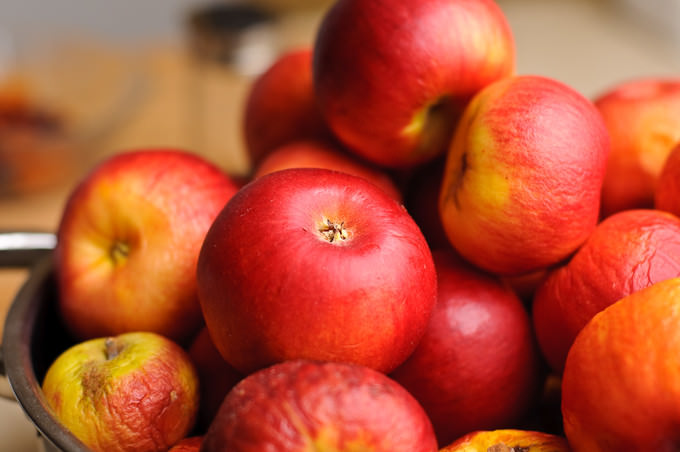 Ingredients:
4 oz of dried fruit of your choice. I mix raisins, dried apricots and dried cranberries
1 cup of water
1 cup of all purpose flour
1/2 tsp baking powder
4 medium apples
4-5 strawberries (optional)
4 eggs
pinch of salt
1/2 cup light brown sugar
8 Tbsp unsalted butter melted
pinch of cinnamon
1/2 cup of shopped walnuts divided in half
cooking spray or little butter to grease the spring form pan
Directions:
Pre-heat oven at 360 F.
In a small bowl mix the dried fruit with water. Close the lid of the bowl (or simply cover it with microwave safe plate) and microwave it for 2 minutes. Once ready, set aside until further use.
Sift the flour together with the baking powder and set aside until needed.
Peel the apples and cut them in thin slices. If you are using strawberries cut them up thinly, too. Place them in a little bowl and set aside.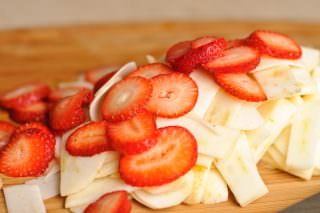 Whisk together eggs, pinch of salt and light brown sugar, until the mixture is lighter.
Add the melted butter, cinnamon and whisk until everything is mixed. Add the dry ingredients to the wet ingredients. With a spatula gently stir everything together, just until incorporated.
Once well-incorporated, mix in half of the chopped walnuts along with the cut fruits. Grease the sides and the bottom of the 9″ spring roll pan using baking spray or butter.
Place the ready mixture in the pan. Drain the water from under the dried fruit and place them randomly on top of the pie. Sprinkle remaining walnuts on top of the pie and place the pan on the middle rack of the oven.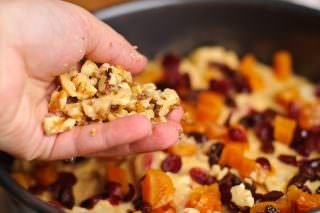 Bake for 45 minutes to 1 hour, depending on the readiness of the pie. Once time is up, take the spring pan out of the oven, let it cool for 10-15 minutes before un-molding the pie. Cool it further on the wire rack.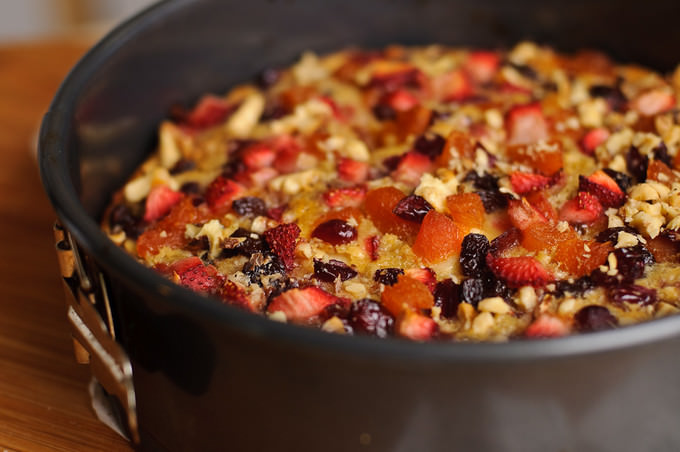 You can serve it warm or cold. Voila!
Bon Apettit!