We often have guests at our house. I love gathering friends, having a nice dinner with them, playing games, talking and enjoying the evening. I try not to make the same food every time we invite someone over. So, I look for new recipes, work on substitutions or just come up with my own combination for a new dish. When I first made Baked Pears with Blue cheese, my husband fell in love with it right away! Now he keeps on bringing more pears and blue cheese to have enough of this delicious entree at his immediate disposal.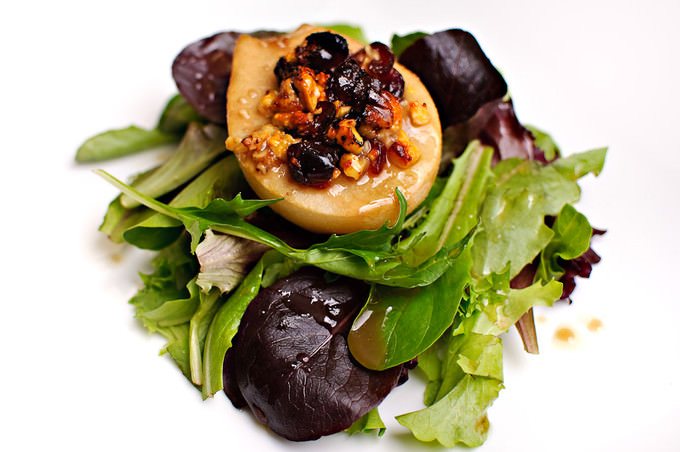 It looks good, doesn't it? :) It tastes absolutely amazing. As long as you like fruit and cheese combo, you will hit the jackpot with this recipe. If I can speak for my friends, this recipe is bound to be served in "five-star" restaurants.
The recipe belongs to Ina Garten. I slightly modified it to best suit our taste and requirements. If you try it, I want to know what you think of it! I am using Ina Garten's words and will add my own modifications as I write along.
Ingredients:
3 ripe but firm Anjou pears
1/4 cup of freshly squeezed lemon juice
3 ounces coarsely crumbled sharp blue cheese such as Stilton (I use Greek blue cheese. A perfect sub for Stilton)
1/4 cup dried cranberries
1/4 cup walnut halves, toasted and chopped
1/2 cup apple cider
3 tablespoons port (or a substitute*)
1/3 cup light brown sugar, lightly packed
1/4 cup good olive oil  (I recommend using half of this amount)
6 ounces baby arugula (I use salad mix with baby arugula or adult arugula in it)
Kosher salt (totally optional)
Directions:
Preheat the oven to 375 degrees F. Slightly roast walnuts before you chop them up. This will give them a nice aroma. Once toasted chop them up.
Gently toss the crumbled blue cheese, dried cranberries, and walnuts together in a small bowl. Set aside until pears are ready to be stuffed.
Pears will back with this delicious sauce: In the same small bowl, combine the apple cider, port, and brown sugar, stirring to dissolve the sugar. *Those of us who would like to substitute port, I either recommend using 3 Tbsp of red wine vinegar or 2 Tbsp of cranberry juice (or concord grape juice)+1 Tbsp of lemon juice.
Peel the pears and slice them lengthwise into halves. With a small sharp paring knife and a melon baller, remove the core and seeds from each pear, leaving a round well for the filling. If you do not have a melon baller, use the paring knife to create a well in the middle of the halves. Trim a small slice away from the rounded sides of each pear half so that they will sit in the baking dish without wobbling.
Divide the cheese mixture among the pears, mounding it on top of the indentation. Arrange the filled halves, core side up, in a baking dish large enough to hold the pears snugly.
Pour the cider mixture over and around the pears.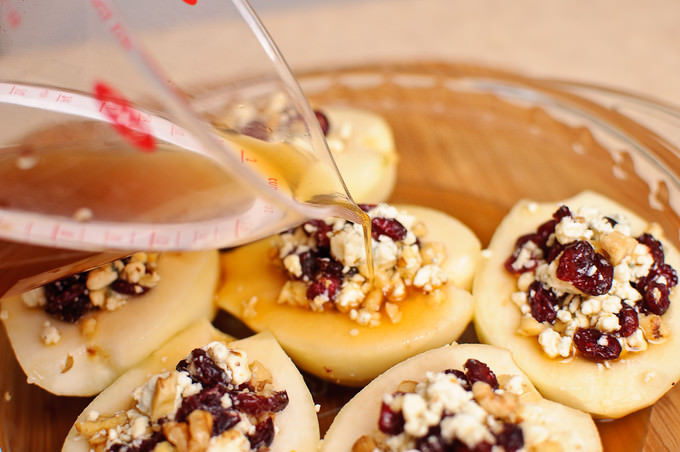 Bake the pears, basting occasionally with the cider mixture, for 30 minutes, or until tender. Once done baking set aside until warm or at room temperature.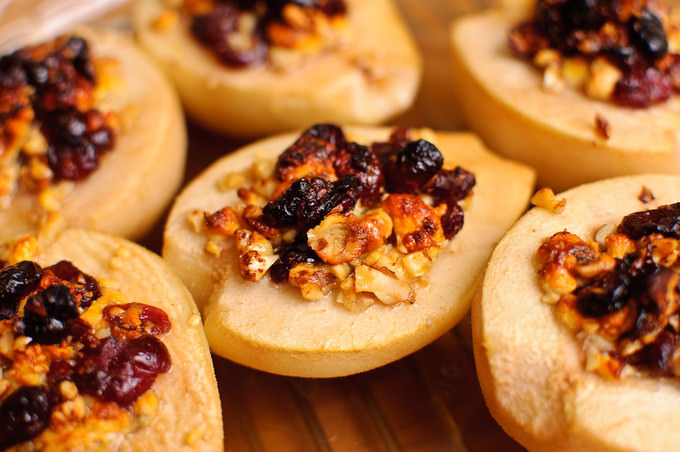 Just before serving, whisk together the olive oil, 1/4 cup of lemon juice, and 1/4 cup of the basting liquid in a small bowl. Basting liquid is the liquid under the baked pears. Arrange the salad mix among six plates and place the pear halves on top of each salad mix. Pour 1 Tbsp of vinaigrette over each pear salad before serving.  Sprinkling a little salt is optional. I never needed any.
Voila! Bon Appetit!