Fish is a good source of healthy protein and Omega-3 fatty acids which benefit the heart of. Also, consuming fish and seafood products rich in Omega-3 at least twice a week decreases chances of cardiovascular diseases. Buying fresh unfrozen fish is always recommended. Also, keep in mind that consuming larger species of fish comes with its own risks of being more exposed to mercury contamination. The bigger the fish, the bigger the risk.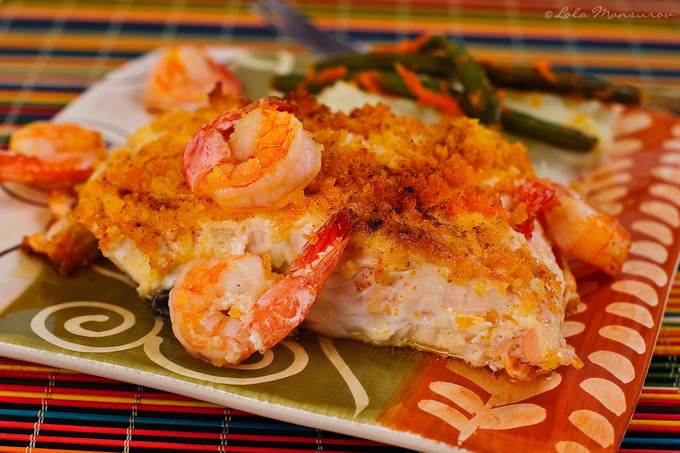 I always thought preparing fish is not an easy task. I think every fish has a unique taste and has to be prepared with well coordinated herbs, spices and vegetables. So, I've been looking for a perfect recipe for baking salmon, but couldn't find a single recipe which could excite my taste buds just by reading them :) So, I decided to alter a couple of recipes and come up with something that my family would love. Our son Omar doesn't eat much fish. In fact, he thinks chicken is fish and real fish is something he doesn't even want to try. Although this recipe came out pretty decent and definitely is a keeper, Omar still has a lot of fish tasting to do to become a seafood gourmet like his dad!
Yield: 2-4 servings
Prep. and cook time: 45 minutes
Ingredients:
4-16 oz fresh salmon fillets
3 Tbsp Mayo
3-4 Tbsp butter
1/2 cup bread crumbs
2 Tbsp paprika
2 Tbsp onion powder
2 Tbsp garlic powder
pinch of salt
cooking spray or vegetable oil to brush the baking pan
Directions:
Preheat oven to 400°F. Melt butter and add 1/2 cup of bread crumbs. Set aside. In a small bowl blend onion powder, garlic powder and a pinch of salt. Set aside. Cover baking dish with foil and coat it with cooking spray. Place fillets skin side down on the dish and cover the fish with a very thin layer of Mayonnaise. Sprinkle blended powders on the fish evenly and top it up with butter & bread crumbs. Sprinkle paprika and bake in the oven for 30-35 minutes or until fish flakes easily with a fork.
Serve with your favorite vegetable or with rice and mashed potatoes.
Enjoy!