Here is the deal. We buy bananas because at times our children eat a lot of them. But next time we buy them almost all of them end up in the trash! If you find yourself in a similar situation, your best bet is to bake something with bananas in order to avoid the shameful waste. Ultimately, this banana cake will come in handy. Unlike famous banana breads out there, this banana cake is moist due to the usage of less flour and addition of yogurt. What could be more pleasant than not wasting perfectly fine bananas and enjoying an amazing dessert?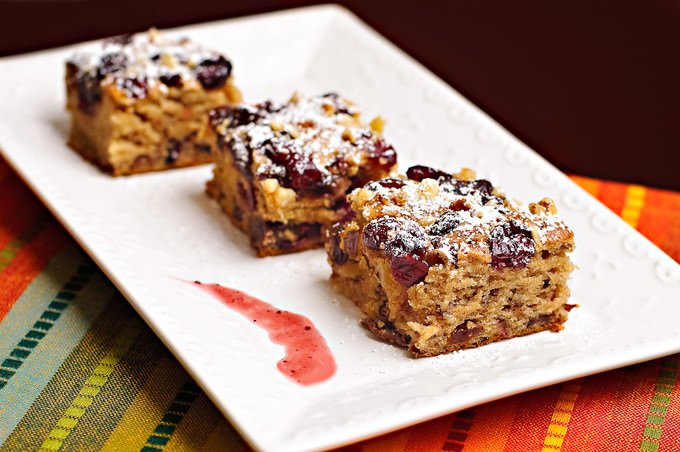 If you love banana bread and you are looking for a fancier recipe with moisture filled core, this is it! Dried fruits give this cake a nice twist of additional flavors.
Ingredients:
1 cup of dried fruits (my choice: divided among dried cranberries, dried raisins and dried strawberries)
1 1/2 cup of apple juice
1 cup of all purpose flour
1/2 tsp baking soda
1/2 tsp baking powder
1/4 tsp salt
1/2 cup of light brown sugar
4 Tbsp unsalted butter melted
2 medium bananas
3 Tbsp of plain yogurt
1 tsp vanilla extract
2 egg whites
1/2 cup of chopped walnuts
Directions:
Preheat the oven at 350 F. Place dried fruits in a small bowl, add juice, close the bowl with a lid (or with a plate) and microwave it for 30 seconds. Once the time is up, without disturbing the dried fruits, set the bowl aside for 15 minutes. The dried fruits will drink up most of the moisture.
In a medium bowl mix together flour, baking powder and baking soda. Set aside.
If the bananas you have are soft, that's even better! Place bananas, yogurt, vanilla extract and 2 egg whites in the blender and puree everything for 10 seconds.
In a separate bowl whisk together melted butter and light brown sugar until well incorporated. Add the banana mixture and whisk some more.
Carefully add the dry mixture to the wet mixture and mix with a spoon just until incorporated.
Drain the water under the fruits and add half of them into the batter. Add half of the chopped walnuts, too.
Line a parchment paper on the bottom of the spring form pan and pour the batter in. Decorate the top with the remaining fruits and with the rest of the walnuts.
Bake the cake in the middle of the oven for 45 minutes or until the it turns pleasantly brown. You can always test the readiness of the cake with a toothpick or a small fork. Once the cake is done baking, take it out of the oven, cool for 15 minutes and un-mold from the spring form pan. Completely cooled cake can be dusted with confectioners sugar, cut in small squares and served with tea or coffee.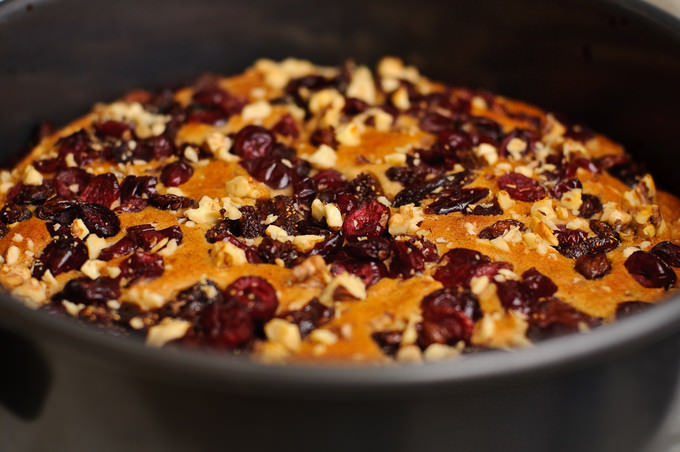 Bon Appetit!!