I remember when this salad was first introduced into our household. When I was a teenager our mom used to invite guests almost every other week. Subsequently, we would invite everyone around the table and share food that we cooked along with our mom. Gradually cooking became an art in our kitchen. We would look for unique recipes and work on them endlessly to create something interesting.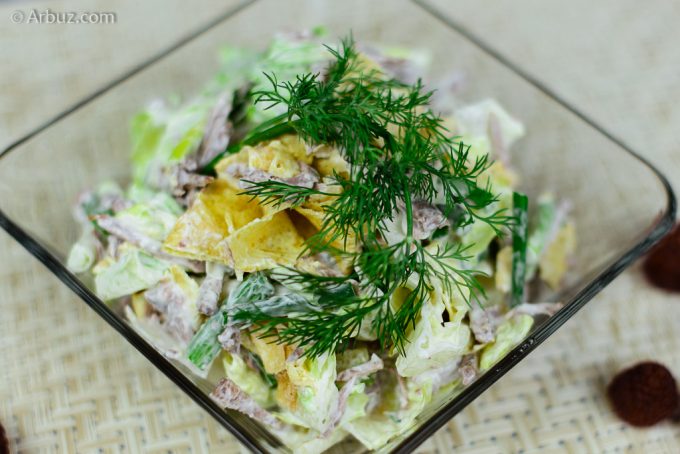 One of those days, when our house got full with guests, mom invited a famous chef to come and cook for everyone. This was her surprise and an attempt to get away from cooking madness. There were a lot of delicious entrees that the chef introduced to our guests and all I could think about was to take notes about everything that she was making. Obviously, since we were helping with the cooking and the serving process (sous chef, if you will) I couldn't write down all the tips and all the recipes, but I managed to learn this recipe by heart! From that day on, this was my all-time favorite salad. Although there are number of ingredients that go into this salad, I named it "Beef Salad", without which this salad may not be that appealing.
The process is pretty basic and steps are fairly simple. I hope you will enjoy it as much as I do.
Ingredients:
1 head crisp romaine lettuce
Cooked beef, a little over than 1/2 lbs (300 gr)
Scallion, 1 bunch (look for a younger one)
Eggs, 2
1 Tbsp water
Mayo, 3-4 Tbsp
Salt as needed
Black pepper as needed
Wash the lettuce and pat dry with a towel or a paper towel. This will help to keep the lettuce clean and crisp. Once done, cut it in small pieces, approximately 1 inch wide. Place the ready lettuce in a large bowl. You will be using the same bowl for the remaining of the ingredients. Julienne the scallions two inches long and place along with lettuce. I usually avoid using the white parts of the scallion, as it tends to get a little spicy and hard to chew. You can wither soak the white parts of the scallion in water in advance and cut the white part across to make it easier to chew/eat.
I prepare the meat in advance and let it cool a little before I cut it. I basically put the meat in a small pot with water, add a little salt and let it cook well for about 40 min on medium heat. Once the meat is cooked and gets cool, julienne the meat (cut in small strips). Again place the meat in the same bowl as the lettuce.
In a small bowl break the eggs, add a little water, a little salt and whisk with a mixer or a fork until everything is well blended.
Heat a medium size skillet to cook the egg. Brush the skillet with a little oil (pretty minimal). You can also use spray oil if that will be easier for you. The eggs are going to be cooked like crepes or thin pancakes.
Take one scoop of egg mixture and spread it on the skillet by rotating the skillet in a circular motion. Remember that the skillet has to be warm enough for the eggs to stick to the bottom and start cooking. Once the egg is cooked from the bottom (30 seconds), turn it on the other side and cook again.
This process should yield you around 4-5 egg pancakes. When you are done cooking them, roll the pancakes 2 inches wide and put under a press. I usually use two cutting boards for this purpose. Place the pancakes on one and press with the other. This process makes it easy for the pancakes to be cut and create symmetric noodles.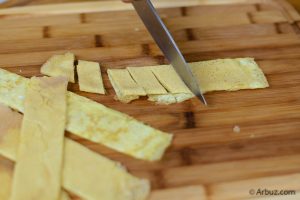 Let the eggs rest for about 10 minutes. Once done, take them out and cut them in 1 inch wide strips. Place the ready cut eggs with the rest of the ingredients in the large bowl.
Add the mayo, a little black pepper, salt if preferred and gently mix everything together…and that's it! Didn't I tell you it was easy? :)
Enjoy!