I always put up the best recipes on my blog (at least best recipes from my kitchen :)), but this Beefstroganoff is going to top all of them. Taste-wise, I would say, this is one of the closest recipes to the original recipe, created by one of the Count Stroganoff's chefs. In case you are curious about this recipe and a brief history of beefstroganoff, follow along!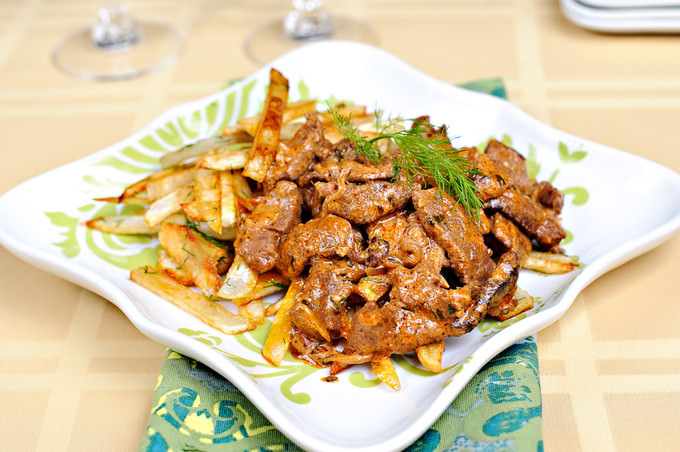 Count Stroganoff was a powerful figure in Odessa, Russia. For most of his career, he served as a governor of the city of Odessa and was a very wealthy man. As a tradition of noble citizens of Odessa, Count Stroganoff held a daily "Open table", where anyone who is educated and well-dressed could come in for lunch right from the street. Beefstroganoff was invented by one of the Count's chefs, during such an event. It is believed to be a hybrid of Russian-French cuisines and included ingredients such as sliced fried meat, topped up with creamy gravy. Unlike its French counterparts of foods served along with gravy, the beefstroganoff gravy was to be served in the dish, along with the meat (the Russian style).
There are tons of different recipes of Befstroganoff out there and I have tried quite a few of them out. It is not my intention to brag about the recipes I put out on my blog, but this is the best Beefstroganoff recipe you can find – you will absolutely love it, I promise!
Ingredients:
1 lb file mignon
1/2 tsp black pepper
1 medium onion
2 Tbsp of flour (optional)
1 tsp of corn strach
1/4 cup of cold water
1 cup of tomato sauce (see the list of ingredients below)
1 cup of sour cream
1/2 cup of heavy whipping cream
1/2 Tbsp salt
Ingredients of the tomato sauce:
1 cup of pure tomato juice
1/4 cup of crushed walnuts
2 cloves of garlic, minced
1/4 cup of mixed herbs (dills and cilantro), chopped
1 tsp of salt
Directions:
Cut filet mignon in 1 inch thick steaks and using a meat tenderizer flatten the meat. Sprinkle a little bit of black pepper on the meat and cut the meat into 1 inch thick strips. Set aside until needed for frying.
Meanwhile, prepare the tomato sauce for the Beefstroganoff. Mince greens and cloves of garlic, chop walnuts, add all of them to the tomato sauce along with salt and mix all the ingredients together. You can also add a little cayenne pepper. Set aside until needed.
Cut onions in thin half-circles. Dissolve starch in cold water.
On high heat, warm-up the skillet with oil. When well-heated, add the meat and fry until golden. Add onions, saute until onions turn slightly golden. Add tomato sauce, turn the heat down to medium-low and let the meat cook in the tomato sauce for about 10 minutes.
Meanwhile, heat heavy cream in a small sauce pan on medium heat and add starch water. Keep stirring the heavy cream until the starch is well incorporated. Add Sour cream and saute for another 2 minutes.
Take down the cream from the heat and pour it on top of the meat mixture and cook for another 10 minutes.
Serve beefstroganoff with a side of vegetables or mashed potatoes. I usually make home-made crispy fries. Add some minced garlic and freshly cut dills. Yummy!!!