I have tried many recipes to make those perfect home-made blueberry muffins. After trying this recipe of Flo Braker, I am 100% sure that I will never try another recipe! This is it! This is the real deal! This is the bomb!.. You can tell that I can brag on forever about my blueberry muffins. On top of that my favorite part is the doughnut topping which places this recipe somewhere between muffins and doughnuts. Don't believe me? I dare you to try this recipe :)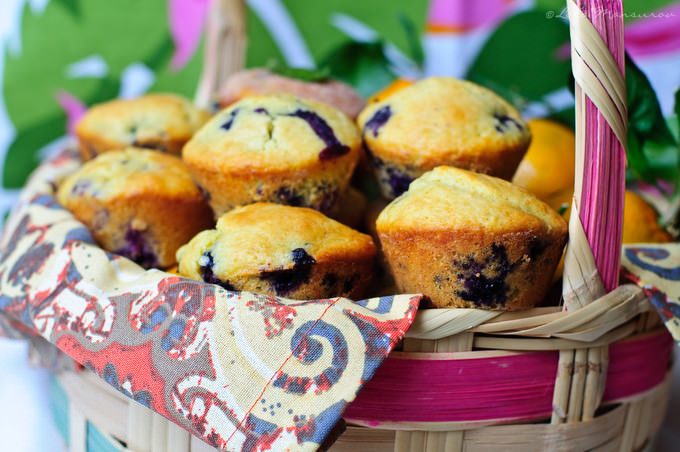 My latest trend is to take pictures step-by-step – I figured that it is much easier for my readers to follow them. These muffins are not hard at all. In fact, you do not even need a mixer. It is so simple, you will fall in love with your oven and your kitchen again. Talking about boost of confidence and energy to cook more!
Let me cut to the chase and start presenting you these utterly addictive and super moist muffins :) All of the ingredients besides the buttermilk should be in room temperature. You can also swap blueberries to any other kind of berries.
Ingredients: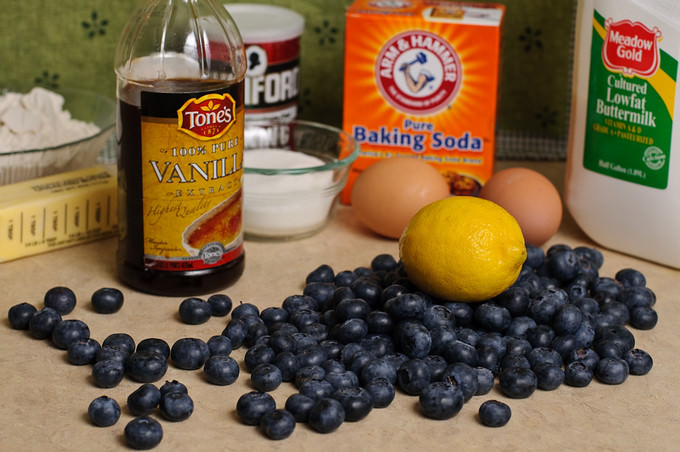 2 cups all purpose flour
1/2 cup granulated sugar
2 tsp baking powder
1/2 tsp baking soda
1/2 tsp salt
3/4 cup well shaken cold buttermilk
3 oz (3/4 stick) unsalted butter, melted
2 large eggs
2 tsp finely grated lemon zest or orange zest
1 tsp pure vanilla extract
1,5 cups blueberries
My husband is not a big fan of the doughnut topping. Particularly the cinnamon part. So, I usually make a small amount of sugar+cinnamon topping enough for a few muffins. I like to indulge myself in cinnamon from time to time! If you want to make all of them doughnut topped, then use the ingredients below. You can alter condiments according to your own taste.
1/2 cup granulated sugar
1,5 tsp ground cinnamon or a 1 tsp of ground cinnamon and 1/2 of ground cardamom (already smells heavenly)
Directions:
Center the rack in the middle of the oven and preheat the oven to 375F. Lightly coat 12 cup standard muffin pan with nonstick spray.
Dust it with flour and tap the back of the ban to get rid of the excess flour.
In a medium bowl whisk together dry ingredients: flour, sugar, baking soda, baking powder and salt.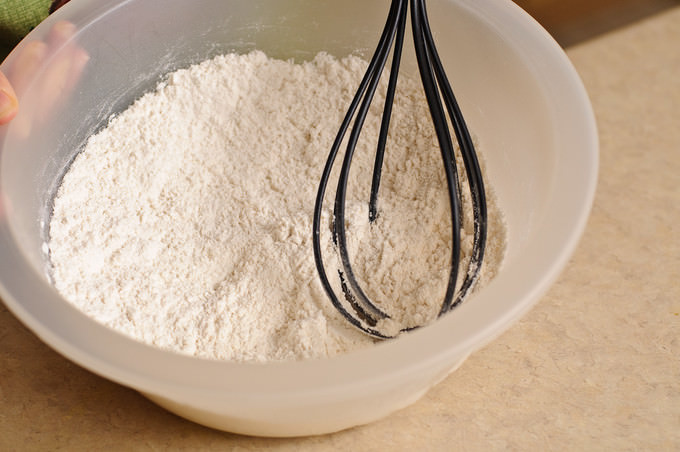 In a separate bowl mix liquid ingredients: buttermilk, luke warm butter, eggs, vanilla and not so liquid lemon zest :) Mix together until well combined.
Add the buttermilk mixture to the flour mixture and stir gently with a rubber spatula just until moistened. Do not beat until smooth. Otherwise muffins will have a coarse texture.
Using the spatula fold in the blueberries. Mix gently a few times just enough to incorporate blueberries into batter.
Using a spoon (like I did) or an ice-cream scoop about 2 1/4 inches in diameter fill the muffin cups 3/4 full.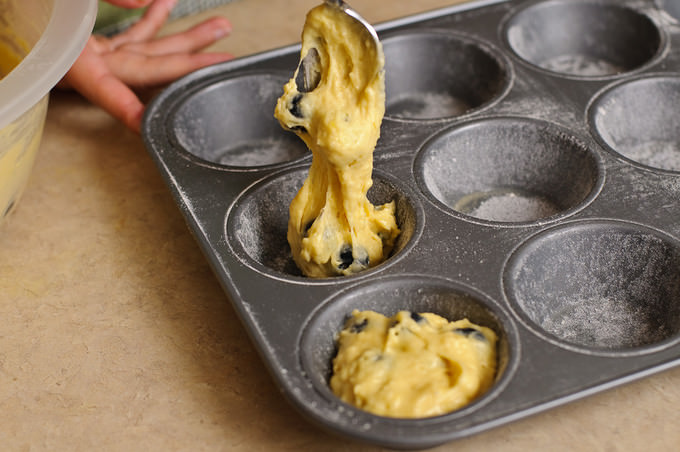 Once evenly placed, put the muffins into the ready oven for about 20 minutes until they are golden and spring back when you press the center of the muffins.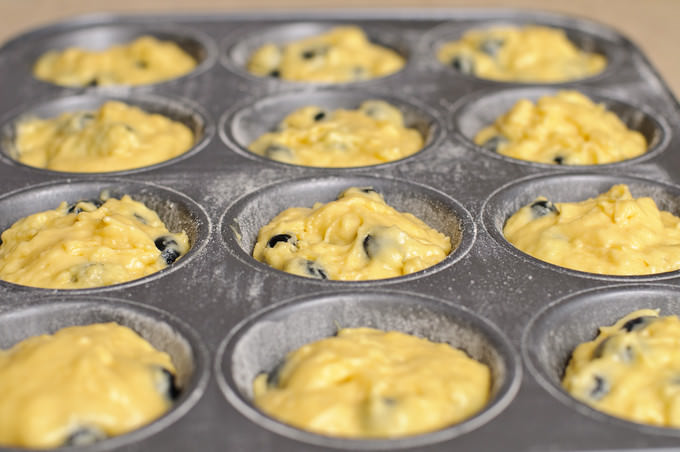 Meanwhile if you decided to do the doughnut topping mix sugar with cinnamon (cardamom optional) and keep it ready until you will need it.
After taking out the muffins from the oven, make sure you give it a rest before handling them further. 10-15 minutes is sufficient enough.
While the muffins are still warm, gently remove them from the pan one at a time. Brush the top of the muffins with the butter (or simply dip the tops in butter) and roll in the cinnamon sugar to coat. Place the muffin on a wire rack to cool them completely.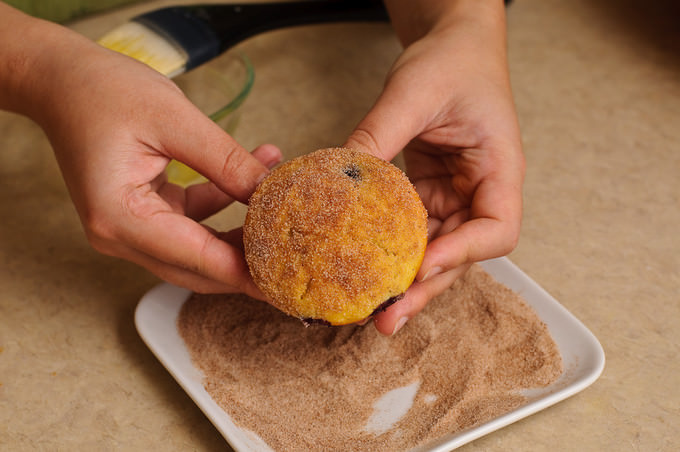 While I do not have the picture of the muffins cooling on the wire rack, I present you the ready doughnut top muffins. TA-DA!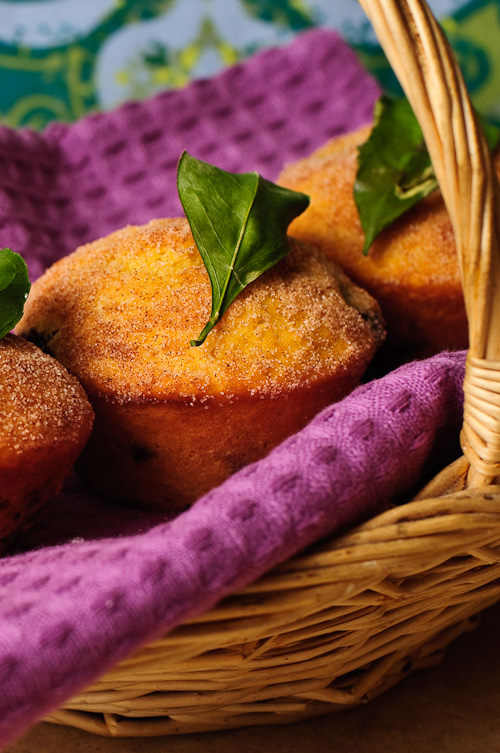 Right after I was done my little helper and my little tester ran into the kitchen and asked for one muffin. Here I handed him one and quickly snapped a picture:
Do you need any more proof that these muffins are worth every second of your time you spent in the kitchen :D
I left The rest of the muffins without the topping per my husband request. I hope you will really enjoy them!