I am not much of a pancake person but really enjoy making these for weekend breakfasts. No hassle, easy and very delicious. Usage of blueberries is very essential since they can keep their shape fairly well on high heat. You can use both fresh and frozen berries for this recipe. It is based on plain yogurt and less sugar, thus making it desirably healthy choice for breakfast entrée. Nothing can give you a better jump start in the morning than seeing your husband and your son enjoying their food.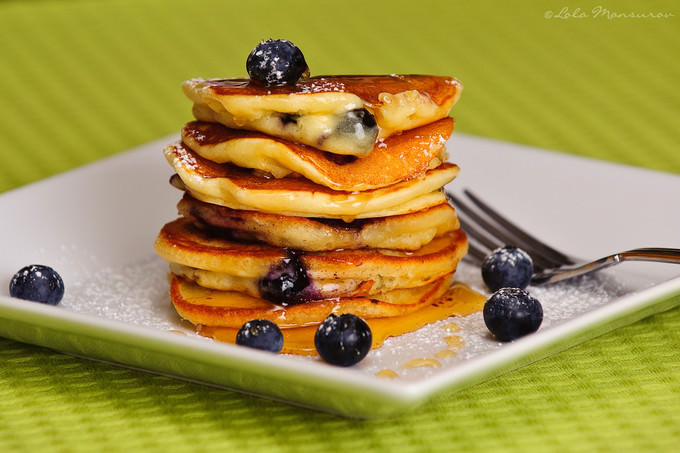 Yield: 15-18 small pancakes
Prep. and cook time: 30-35 minutes
Ingredients:
450 ml plain yogurt* (low-fat yogurt can be used)
50 ml milk
1-1,5 cups of flour
1 tsp baking powder
3 tbsp brown sugar
1 tbsp vanilla extract
1 egg
3 tbsp of melted butter (optional)
pinch of salt
frying oil
* You can use Kefir instead of plain yogurt. If you do so, there is no need for adding milk to the batter but you can increase flour amount by 1 more cup (total 2 cups).
Directions:
In a medium bowl beat milk, yogurt, butter, vanilla and egg. In a smaller bowl mix flour, baking powder, sugar and pinch of salt. Add dry ingredients to a yogurt mixture and beat everything well. Add rinsed, dried blueberries and carefully mix everything with spoon. 
Heat the skillet or a griddle, grease with little amount of oil. Using a spoon put desired amount of batter on the skillet. Keep the heat on medium. Cook until brown on one side and around the edges. Turn and brown the other side. 
You can serve pancakes with whipped cream, syrup, honey or condensed milk. Topping it up with your favorite fresh fruits can make your breakfast double pleasant.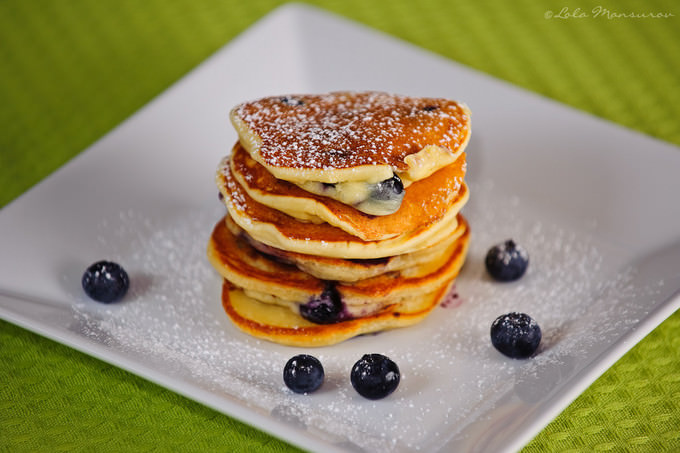 Enjoy!