Chana masala became one of my favorite side dishes while I lived in Texas. I had a loving Indian family who would invite me to their house on weekends and offer amazing treats along with some great dinner. I decided to post this recipe in honor of Aziz and her family, who showed me the meaning of sincere friendship and for introducing me to the Indian Cuisine :)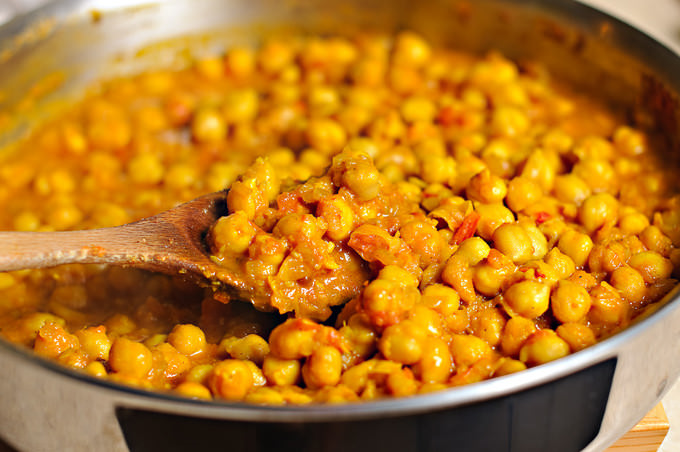 Ingredients:
1 tsp of ginger garlic paste
1 jalapeno pepper or 2 pickled hot peppers
2 medium tomatoes skinned
4 Tbsp oil
1 large onion
1 Tbsp of ground coriander
2 tsp of ground cumin
1/4 tsp ground cayenne pepper
1 tsp of ground turmeric
1 tsp of cumin seeds (optional)
2 tsp of paprika
1 tsp garam masala
1 Tbsp of lemon juice
1/2 tsp of salt
2 cups of cooked chickpeas (soak the dry, uncooked chickpeas in the warm water 4 hours prior to the chana masala preparation and boil it until ready. I usually place pre-soked chickpeas in the pressure cooker and cook them for about 10 minutes) You can also opt for canned chickpeas. Cooking is not necessary with the latter option.
1 cup of water
Directions:
I make my own ginger garlic paste at home. Usually it is 1 part garlic and 3 parts ginger root. You can certainly ulter the combination according to your own taste. Mice both of them nicely with a little bit of water to create consistency of a paste.
Chop up the hot peppers, dice the tomatoes and onions thinly.
Heat the skillet on medium heat and add oil. Once the oil is warm enough add the chopped onions. Saute for about 5 minutes and add the chopped peppers along with the ginger garlic paste. Keep sauteing until the oil starts slightly breaking of from the onion mixture. Probably will not be long. You can keep the temperature same as it was before, or you can turn it down a bit while you are busy with other preparations.
While the onion mixture is getting sauted, pre-mix the spices in a little bit of water. As I always say, this will prevent  the spices from burning when they get in direct contact with oil. No bitter taste in our chana masala! In a half cup of water mix, coriander, cumin, chili pepper, turmeric, cumin seeds, lemon juice, paprika, garam masalsa. Using a spoon mix everything well.
Slowly add the spice sauce to the onion mixture and saute for about 5 minutes. Place the diced tomatoes in the skillet and saute them along with other ingredients until tomatoes get very soft. Add salt, water and the previously cooked chickpeas.
Squeeze some lemon juice, mix everything nicely, turn the heat down to medium low and cover the lid of the skillet. Let it stand for about 10 minutes, open the lid and let it simmer 10 more minutes without the lid.
You can serve Chana masala along with other Indian dishes or enjoy it alone. The recipe is a keeper for sure! Let me know if you need guidance or if you have any questions! :)
Bon Appetit!