This chicken curry recipe is a killer (of hunger of course)! Indian curry chicken is a very delicious dish, served in curry spice along with Basmati rice. This step-by-step chicken curry recipe with pictures will help you prepare a very delicious meal for you and your family. Highly recommended by moi! Very tasty, very fast and full of flavor. We love going to a local authentic Indian restaurant in our neighborhood. My deal is, of course, to try to learn how to bring the new flavors back to my kitchen. I decided to try to cook one of our favorite Curry Chicken also known as Indian Chicken Curry recipes.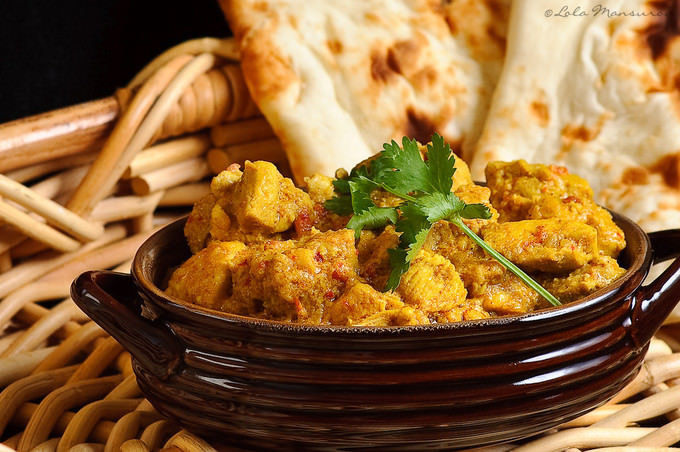 Ingredients:
1 whole skinless chicken or equivalent size chicken breasts
1 cup low fat yogurt
4 tbsp minced ginger
4 minced garlic cloves
2 medium onions(1 large) chopped
2 medium tomatoes diced
1 tsp turmeric
2 tsp of garam masala (mixture of spices)
2 tsp of ground coriander
1 tsp of ground cumin
1 tsp chili powder
a little black pepper (optional)
1 tsp salt
4 tbsp of cooking oil
a little water to mix the spices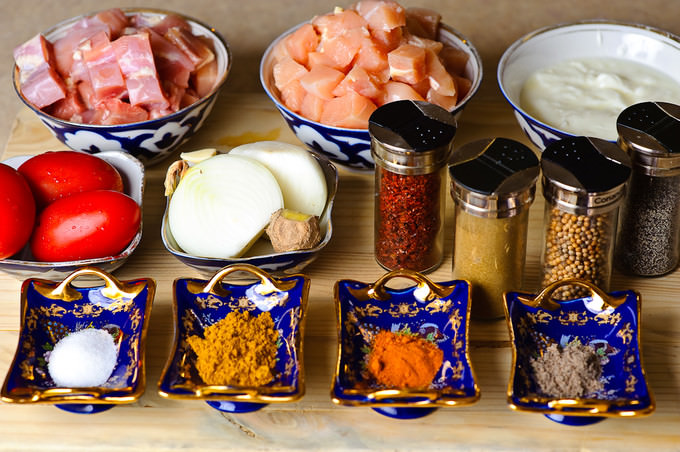 Directions:
Chop up onions in a chopper. You can always hand-chop everything. That is considering you are not as lazy as I am :)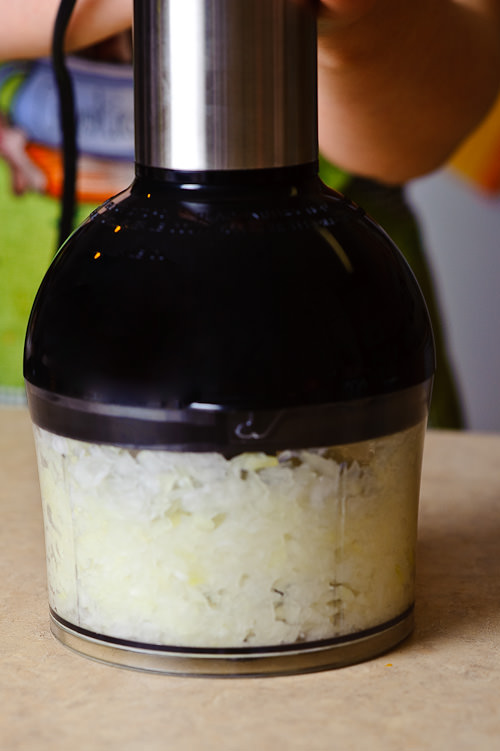 Once you are done with the onions, put your ginger and garlic in the chopper, add just a little bit of water to make it easier on the chopper while super chopping ingredients and do it until the mixture becomes a little pasty.
You can either pre-cut chicken in small cubes like I do, or you can just cut up the whole chicken into smaller pieces. Once you have the chicken ready, add 1 cup of yogurt, just a dash of salt, 2 Tbsp of ready garlic+ginger paste and mix everything well with your hands. Put the marinade aside until the sauce is ready.
Dice tomatoes and put aside for later use: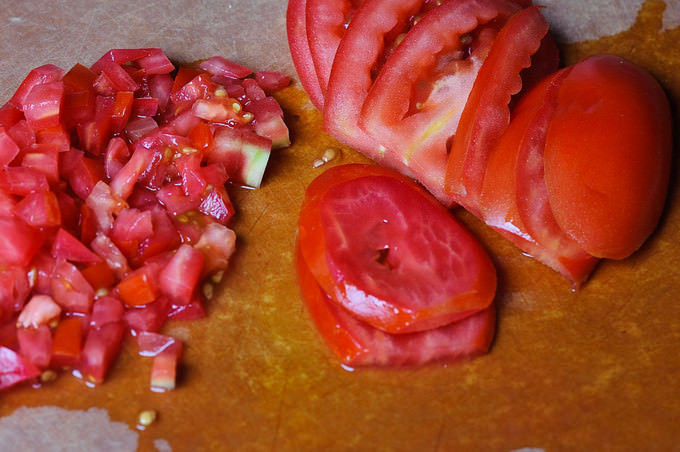 Put oil into a well heated skillet, add onions and stir fry until onions are transparently yellowish. Add the remainder of the garlic+ginger paste (approx. 2 Tbsp) and keep on stirring for about 5 minutes on medium heat.
Meanwhile, you will need to prepare a mixture of spices. For that, you will need a small cup with 4-5 Tbsp of water. Add turmeric, garam masala, cumin, coriander, chili peppers and salt. Mix everything well and pour the mixture over the sauteed onions (this procedure will prevent the spices from getting burned, leaving you with no dinner).
From here, you will need to work your spatula over the skillet. Keep stirring everything until you see oil separating from the onions+spices. Once it is done, add tomatoes and saute some more (until tomatoes soften and oil starts to separate from vegetables).
Take out the chicken marinade and slowly place it over the sauce. Mix everything carefully and close the lid. Once the sauce boils up, turn down the heat to medium low.
Keep the lid closed and let the chicken cook well. In about 30-45 minutes you will have a delicious Curry Chicken. Once the chicken is cooked to perfection, add a dash more of the garam masala to give a much richer aroma to the dish. You can serve it with vegetables, naan (bread), rise, spinach saag and many other Indian side dishes.
Options:
*If you want more sauce for rice or naan, add a little more yogurt+onions.
*Using whole chicken is recommended to make this dish tastier. After the meat is ready, you can take out the bones and serve the meat in the sauce.
*You can substitute garam masala with a curry mix. In this case, cut on the salt a little, since curry mixes usually have a higher concentration of salt.
I hope you liked this Chicken Curry Recipe. Please let me know if you have any questions in the comments section below. I would also love to get your feedback on how your chicken curry came out.
Enjoy!!!