It was one of those days when my refrigerator was nearly empty and the freezer only had 1 pound of chicken breasts in its premises. Hesitant to go to a grocery store alone with a baby and a pregnant belly, I searched for ways of utilizing the chicken I had. My cousin Guzal, who lived in another state at the time, recommended to make these delicious cutlets. I checked for the ingredients and surprisingly, had everything I needed for the recipe! It is very easy to make and you will be surprised about how good it tastes with these ingredients.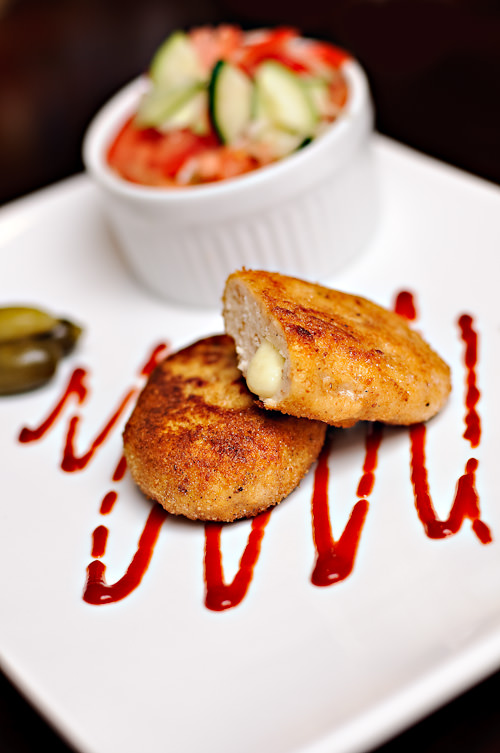 In Russian they are called "Pozharskie Kotleti" (Пожарские Котлеты). These cutlets have quite an interesting history. According to one rumor, inventor of these famous cutlets was  Darya Evdokimovna Pozharskaya (from the memoirs of the German ambassador to Russia). One Russian Czar (probably Alexander I) stayed in the town "Ostashkovo", where he ordered a breakfast at the Pozharsky Inn. Order called for veal cutlets. The owner, husband of Darya, was in despair since he couldn't get quality veal in such a short time. At the same time, he couldn't disobey. Darya suggested him to swap the veal with chicken and serve it without giving out the details. Pozharsky didn't see any other way. Using fresh chicken meat made more sense than serving old veal. He then proceeded with this task. Pozharsky decided to coat the cutlets with bread crumbs. Fried them up in butter and served to Czar.
Czar loved the dish. He decided to reward the innkeeper for such a delightful breakfast. Fearing of being exposed, Pozharsky decided to confess. He told Czar what went on in the kitchen and begged for his life. Czar was pleased with the honesty of the host and decided that the reward was indeed well-earned. From that day on, chicken cutlets became a part of the royal menu, under the name of Pozharskie Kotleti (meaning Pozharsky's cutlets).
Yield: 4 servings
Ingredients:
1 lb chicken breast (or 1 lb readily ground chicken)
7-8 oz. plain wheat bread (I use Italian wheat)
1/2 cup of warm milk
6 Tbsp of unsalted butter
1/2 tsp salt
pinch of black pepper
1/2 cup of bread crumbs, use more if needed
1 clove of minced garlic (optional)
1 tbsp of vegetable oil (optional)
4 oz mozzarella or Muenster cheese cut in 2 in long, o,5 inch wide strips (optional)
Directions:
In a small bowl soak the bread in warm milk. Set aside until needed.
I have a meat grinder and prefer to grind the chicken breast myself. Grind the chicken first and then grind the previously soaked bread right after the chicken. For better and more tender cutlets, grind chicken+bread once again. If you are using store-bought ground chicken, add the bread and using a chopper chop both ingredients well. If you do not have a chopper, just mince both ground chicken and the bread well with your hands.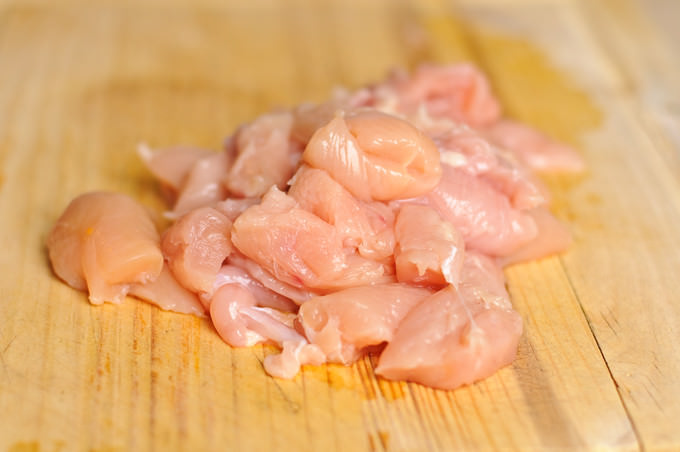 Transfer ingredients to a bigger bowl and add salt and pepper. If you want to use minced garlic, this is the time to add it to the mixture. Using your hands, thoroughly combine ingredients well.
Pre-heat the oven at 350F.
Ground chicken is pretty sticky. At times, it gets very hard to shape the cutlets with bare hands. I always keep a little bowl with water by my side, while working with these cutlets. Simply soak your hands in the water, grab a portion of the meat equal to a size between a golf ball and a tennis ball. Shape it so that it fits the strip of the cheese, press the cheese in the middle, cover the sides and create a patty. Make sure that cheese is not exposed.
Coat the cutlets with bread crumbs from all sides and place ready patties on a separate plate.
On medium-low heat, melt the butter on the skillet. Using vegetable oil is optional. I only add it to prevent the butter from getting black. As you probably know, butter tends to burn faster. Subsequently, the dark color will pass on to the second batch of the cutlets. Adding a little vegetable oil will more or less prevent the butter from turning dark. If you decide to use oil, once the butter is melted, add the oil and mix it together with the butter. Turn the heat up to the medium (5 in electric stove tops) and start gathering patties on the skillet.
Fry for 3 minutes on each side, or until golden brown. Once the patties are done cooking for 3 minutes on each side, place them in an oven-safe container. Put the container in the oven for 15 minutes uncovered. Bake for 15 minutes to fully cook the cutlets.
When time is up, take out the dish from the oven and serve the cutlets with your favorite side course. For us, it is a nice salad, pickled cucumbers, buck wheat, mashed potatoes or home-made fries.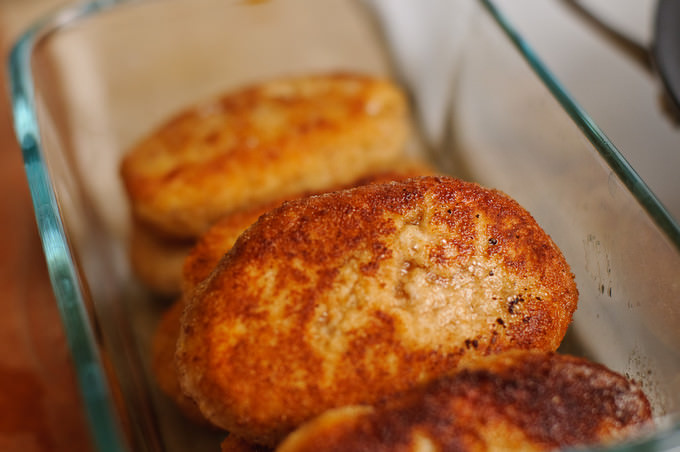 Bon Appetit!