When I lived in Pittsburgh, I used to go to a Lebanese eatery called "Aladdin's". I loved the place very much! The atmosphere, the food and the CAKES were amazing. Every time I went there, I would order Chicken Mishwi. But I never bothered asking them how they actually cooked this chicken to be so tender and absolutely delicious. Knowing the name of the dish, I searched for it for a long time. There wasn't much about it except for one little recipe in Yahoo Q/A. I really had to strain my taste buds to exactly pin point what it is I ate at "Aladdin's". Now we eat this chicken every other week.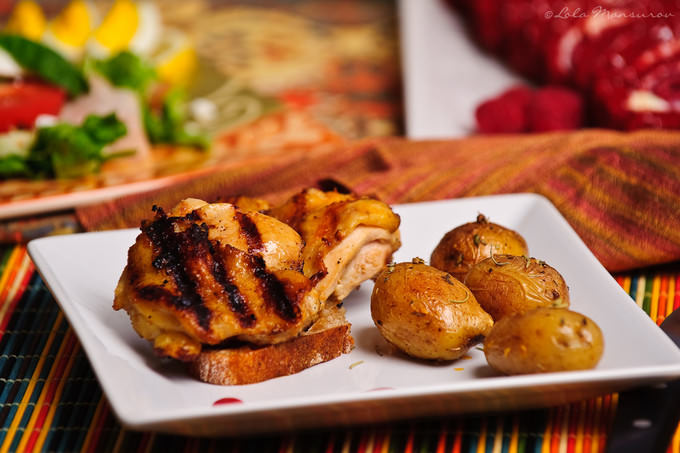 A couple of weeks ago, my husband and I went to "Barnes and Noble" to purchase some books. Obviously, the first isle I visited was the cooking isle. I picked out the books I wanted to buy for a long time and among them I happened to grab a Lebanese cook book. Although I didn't buy that book that day, to my delight I looked up the Chicken Mishwi recipe in it. I wasn't doing such a bad job following my instincts after all. The only difference was, I use stove top grill. The real key for cooking Chicken Mishwi is an outside gas grill, or better, a charcoal grill. If you happen to like this recipe, try to cook it on an outside grill for the best results.
Yield: 6 servings
Prep. and cooking time: varies
Ingredients:
1 whole chicken (cut out in 4 oz skinless pieces)
4 cloves of garlic, minced
1 cup olive oil or substitute
Juice of 1 lemon
2 Tbsp lemon vinegar
Salt, black pepper
Directions:
In a medium container combine marinade ingredients and mix very well. Soak the chicken pieces and refrigerate. Every hour take it out and mix it well again (do it at least couple of times). Keeping the chicken in marinade overnight is preferable. Heat the grill on medium-high, lay out the chicken pieces. Cook each side for 15 minutes. You can also spread the remaining marinade on the meat while grilling with help of the kitchen brush.
You can also do the original version by using the whole chicken. For this you will need to butterfly the chicken first and then marinade it. The rest of the process is the same.
Serve with a favorite salad, vegetable or rice pilaf.
Enjoy!