We bite off a piece of a cake and suddenly the world of textures and tastes opens. Chocolate, here comes walnut and meet the crusty, sweet meringue. The happiest moments of our days. As we consume the cake these feelings escort us. Then we finish this journey with nice cup of tea. Let's eat sweet and talk sweet with this beautiful Chocolate Meringue Walnut Cake Recipe.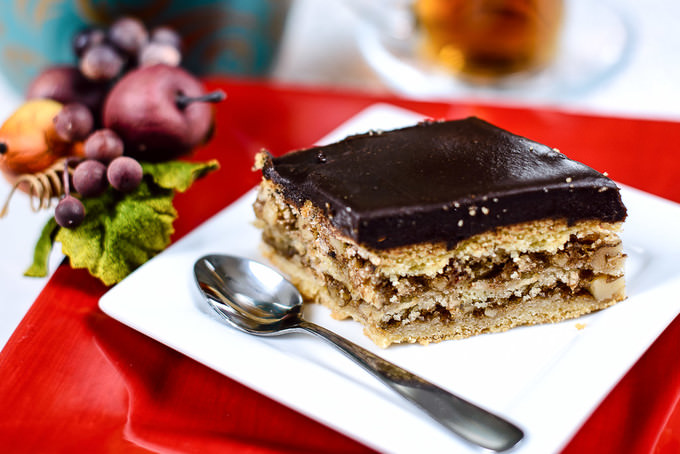 Ingredients:
Dough
4 egg yolks (whites will also be used)
3/4 cup sugar
4 ounce soft butter
1 cup flour
1 tsp baking powder

Filling

4 egg whites
3/4 cup sugar
14 ounce walnuts

Icing

6 ounce bittersweet baking chocolate
3/4 cup heavy whipping cream
2 tbs melted butter
Directions:
Whisk the egg yolks, butter and sugar well.
Add flour, baking powder and mix them until dough is obtained. If the dough is too sticky and too soft you can add a little flour. Avoid stiffing the dough. Divide the dough into three pieces so that one must be a little bigger then the rest. Cover them with plastic wrap and leave to rest in fridge for 30 mins.
Before starting to beat egg whites for meringue, make sure that your bowl and whisk or mixer beaters are completely dry. Beat egg whites until firm peaks are formed. Gradually add sugar and keep on beating.
If you turn your bowl (not upside down :)) and the mass prepared stays there, then you are done. Crush walnuts lightly. You can chop them if you want, but do not grind them. Mix ready beaten eggs and walnuts carefully.
Preheat the oven to 350 degrees. Use approximately 9×13 inch cake pan or other size but preserve the ratio. Place the parchment paper into the pan. Take rested dough balls from fridge. Start rolling out with the smallest dough ball and place it into the pan.
While rolling, dough may be cut into smaller pieces and stitched back in the pan like a puzzle. Spread half of the meringue-walnut mix onto the stitched dough.
Go over the same procedure with the next small dough ball. Stitch the pieces together on top of spread meringue. Again, spread the other half of meringue and cover it with rolled out dough. Cook the cake approximately 40 mins or until golden.
Cut the chocolate into small pieces. It helps melt them quicker.
Add butter to heavy whipping cream and bring it to boil. Pour the hot whipping cream onto chocolate. Whisk the content for a while to obtain homogeneous mixture.
Remove the parchment paper when baked cake is cooled down. Pour the warm chocolate on top of the cake and refrigerate for about 2 hours. Enjoy!