I mean – YUM! Of course you do need to like either the ricotta cheese or the farmer's cheese for this recipe (ehm, made out of skim milk). In our family, we love both. You have to try these Fruit and Cheese Bars! Every time I have farmer's cheese in my refrigerator, I know what to use it for! Choices are countless. I hope to share it all with you one by one. This particular recipe has three layers of fruits. Favorite of my children and those who like fruity desserts. Please let me know if you like any of the recipes. I love feedback! :)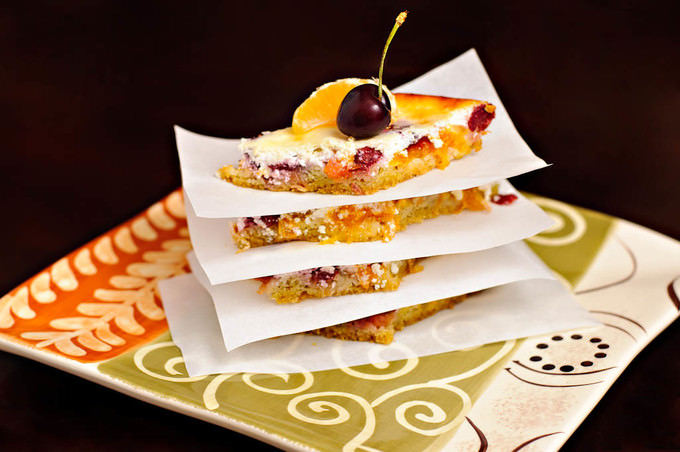 My children are not super fans of sweets and desserts. Maybe it is a good thing! But this goes well as it has a nice amount of fresh fruit. You can substitute the fruits with other fruit counterparts. I picked up apricots, canned sour cherries and apples. Blueberries are in season right now, so you can go with blueberries, plums, apples and hmmm…. apricots? :) You decide!
Bottom layer of the cake is very nice and moist. Love at first taste… Remember to be nice to your figure and your stomach :) One cheat portion is fine, as long as it is not a regular habit :D
Ingredients:
1 stick of butter (113grams) refrigerated not frozen
3 eggs (whites separated from yolks. Both are going to be used)
1 cup of sugar divided in two
1-1/2 cup of flour
1/2-1/2 tsp salt
1-1 Tbsp vanilla sugar (if you do not have it go with 1-1 tsp liquid vanilla)
1 lb of farmer's cheese or ricotta (500 grams, 17 oz)
2-2 baking powder
Directions:
In a medium bowl mix 1/2 cup sugar, flour, 1/2 tsp salt and 2 Tbsp of baking powder and 1 Tbsp of vanilla sugar (or 1 tsp of liquid vanilla). I didn't have enough baking powder  so for this step I added 1 tsp of baking soda (mixed in with tiny bit of vinegar). Mix everything well.
Cut the butter in tiny pieces and add to the dry ingredients. Use a fork or pastry cutter (or your fingers) to blend in the butter. Add the egg yolks and give it a stir one more time. Dough will be (should be) crumbly.
Once the dough is ready set it aside until you are done preparing the filling. After searating yolks from whites do not forget to keep the whites in the refrigerator. Cold whites are better when whipping up a meringue (which we will do in a little bit). Cut the fruit into a bigger chunks. Apples can be grated. Set aside and get on working on meringue!
PREHEAT THE OVEN TO 350F.
Whisk the egg whites until the white peaks form and slowly start adding 1 Tbsp of sugar from the remaining 1/2 cup. Whisk until you are done adding the sugar and strong white peaks form. Place farmer cheese in a medium bowl, add 2 Tbsp of baking powder and vanilla and give it a whisk. Using the smallest speed of you mixer,  in two portions add egg whites into the cheese mix.
Drain the juice out of sour cherries if you are using them. If not get on to the next step :)Place crumbly dough on a baking sheet. My baking sheet was approx 16×11 inches. Press the dough into a nice crust.
Place the fruits evenly on the crust; first apples, then apricots, etc. Cover the fruits with farmer cheese and egg white mixture evenly.  Bake in a hot oven for about 1 hour or until the top is slightly brown.
Cool completely before cutting this dessert. Be patient and you will love the end result :D
Bon Appetit!