Funchoza is a well known salad in Central Asia. I am not very sure of it's origins. Always thought of it being Korean but recent searches show that it is actually Uighur (ethnic minority in China) dish. The ingredients might remind Japchae but the taste is absolutely not the same. Japchae uses potato starch noodles, funchoza is done with rice noodles.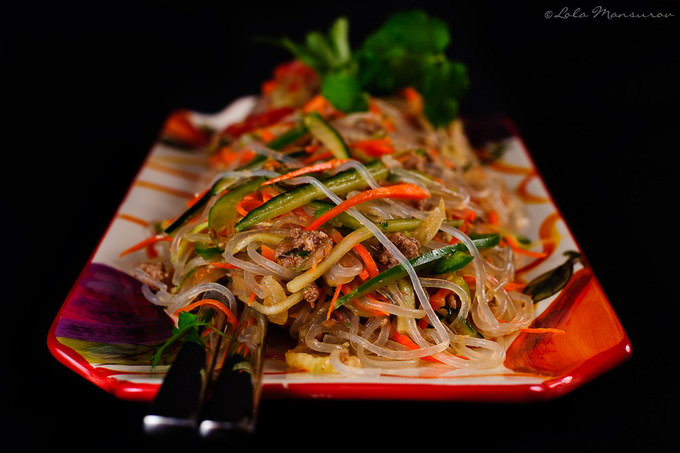 There are many varieties of this salad. This particular one is my favorite. I especially like the idea of using raw vegetables to give this salad a very fresh note.
Prep. time: 45 minutes
Yield: 6-8 servings
Ingredients:
0,5 lb of ground beef (85% lean is ideal)
1 bag of (12 oz) of rice noodles
2 tomatoes cut in cubes or julienned*
1 medium onion julienned
2 medium carrots
1 green bell pepper
1 cup cilantro finely chopped
2-4 medium cloves of garlic minced
4 tblsp soy sauce
2 tblsp lemon vinegar
pinch of red chili pepper
1 small cucumber
1/2 cup of oil, salt, pepper, cumin to taste
*While doing this salad, think thin. Julienning is a method of food preparation in which the food item is cut into long thin strips.
Directions:
1. Prepare rice noodles according to the package directions. Usually you just keep it for 10 minutes in boiling water. Take it out and rinse it well in cold water. Cut the noodles with help of kitchen shears to 6″ pieces.
2. Julien carrots, julien cleaned green bell peppers. In a small container put carrot, bell peppers and garlic. Add soy sauce, lemon vinegar, pinch of chili pepper and mix it well. Put a lid on the container and put it into refrigerator.
3. In a wok heat the oil, stir fry onions for a minute and add ground beef. Add salt, pepper and cumin according to your own taste. On medium high heat keep stir frying the meet for about 5-8 minutes, add half of the tomatoes and mix until tomatoes are very soft. Add half of the cilantro, mix it once or twice and turn off the heat. Drain the excess oil by help of bigger strainer.
In a large mixing bowl mix 1,2,3. Add remaining tomatoes, julienned cucumber and remaining cilantro. If needed add more salt and your salad is good to go.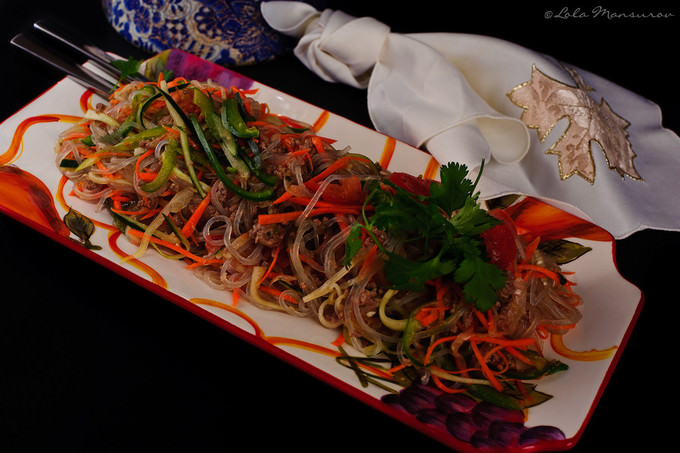 Enjoy!