One word: DELICIOUS!!! I've been wanting to post the recipe for a Grape Leaf Dolma for a while, but it gets a little hard to find nicely preserved grape leaves here in the U.S. Often times, I end up buying easily torn, tough older leaves that were picked too late. When the leaves are pickled, they are impossible to eat!
The best way to make Dolma is from fresh grape leaves. It is absolutely a must to start gathering grape leaves while they are new, smaller in size and very fresh. My dad is an amazing gardener and in season we always had young grape leaves in our possession. Now I live in an apartment building and do not have a luxury of having freshly picked leaves. For that reason, my quest for properly preserved grape leaves has been going on for good 5+ years.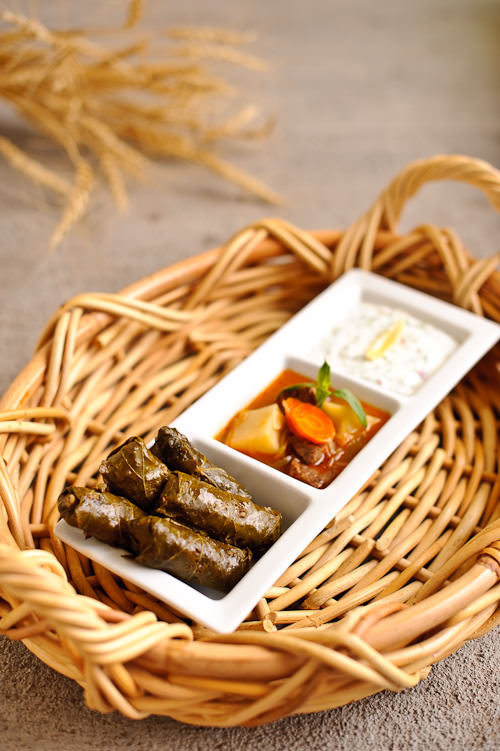 Here is the deal – buying preserved grape leaves is very tricky. There are many types of bottled/preserved grape leaves, but not all of them are good, simply because it is hard to take out the densely packed leaves from a tiny bottle. Especially when they are vacuumed with water. Thus, they either get torn in the process, making it impossible for you to use them, or they are so hard that the cooked dolmas are very hard to chew. Not to mention super high acidity and saltiness of the preserves. From my experience of using bottled grape leaves, I can only recommend Mezzetta brand, sold in most of the grocery stores in the United States. Again they are preserved well, but a little on a harder side (and a high price tag!) If you want to utilize your slow cooker, these are a killer deal.
My absolute favorite is "Sera" brand that I recently found in our local Turkish store. I like the fact that they are packed flat, making it easier for me to separate as many leaves as I need. Secondly, these leaves are soft when cooked even without the slow cooker!!! We absolutely loved it.
The recipe I am presenting is my mother's recipe. Unlike in Turkish cuisine, we always add meat inside our dolmas and mainly cook it in a meaty vegetable broth. This is personally my favorite dolma recipe, as I rarely enjoy other dolmas.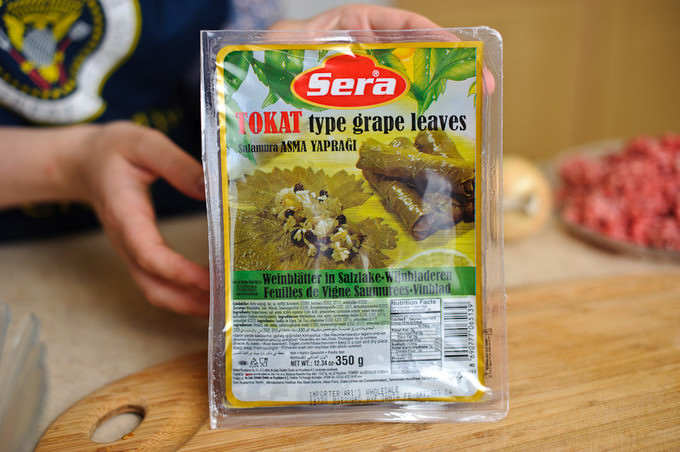 If you can pick fresh grape leaves you cannot just start wrapping the filling in them. Gather as many leaves as you want to use, wash them, place in a larger container and slowly pour boiled water over the leaves. Bright green leaves will start changing color and turn olive green. Carefully take out the grape leaves and set aside until you have the filling ready.
Ingredients:
2 medium onions (spare quarter portion when cut for the vegetable broth/gravy)
1 tsp salt
1 tsp ground cumin
1/2 tsp ground black pepper
1 cup rice (I use Botan rice, perfect for this recipe and many more)
1 lb ground beef
1 egg
Grape leaves, depending on the package you've bought*
For the vegetable broth/gravy:
2 medium potatoes
1/2 small onion
1/2 green bell pepper
1 medium tomato
2 cloves of garlic
1 medium carrot
little bit of cubed beef to make it a beef broth (you can also use tiny bit of meat filling for this job)
1 tsp salt
1/2 tsp ground cumin
1/2 ground black pepper
3 Tbsp of oil to saute
5-6 cups of boiled water
Directions for the dolma filling and dolma rolling:
Thinly slice onions in half circles. Place in a medium bowl, add salt, pepper, cumin powder and give the onions a squeeze. Softening the onions is important, as it aids faster cooking of the onions inside the dolmas without leaving a crunchy feeling.
Wash rice, add to the onions, add ground beef, crack an egg on top of the ground beef and mix all of the ingredients very, very well.
One thing to keep in mind with preserved grape leaves, is that the acidity of these little things is off the roof. Prior to using them please rinse them very well.
Cut the extra stems on top of the leaves. Open each leaf up with more textured side up, horizontally place a TBSP of filling in the center of the leaf, fold one side to the center and then the other side to the center. Make a roll starting from the closest side to you. Set aside on a dish until you are done with leaves allocated. In case you have more filling than the leaves, just make little meatballs out of the filling. You can drop them in the bullion later.
Making the gravy:
Julienne green pepper and tomato, thinly slice garlic cloves,  carrot and cut potatoes into small pieces.
If you are using beef, cut it in cubes. In a larger pot heat the oil on high heat. Caramelize the meat and add thinly sliced onions. Once onions turn golden brown add cut tomato. Saute until tomatoes get soft. Constantly keep stirring.  Add salt, pepper, cumin and remaining vegetables. Saute for about 5 minutes. Turn the heat down to medium low.
Immediately start placing wrapped dolmas on top of the vegetables. Try to place them evenly. Add boiled water making sure it somewhat covers the top of the dolmas. As soon as the bullion starts slightly boiling, turn the heat down to low and semi-close the lid of the pot. Cook for about 35-40 minutes. It shouldn't take any longer for the entire meal to get very well cooked!
Once cooked, first and foremost, remove the dolmas from the pot. Place the gravy in separate bowls (one for each person) and serve dolmas on the side. I usually make either a fresh salad or a yogurt salad as a side.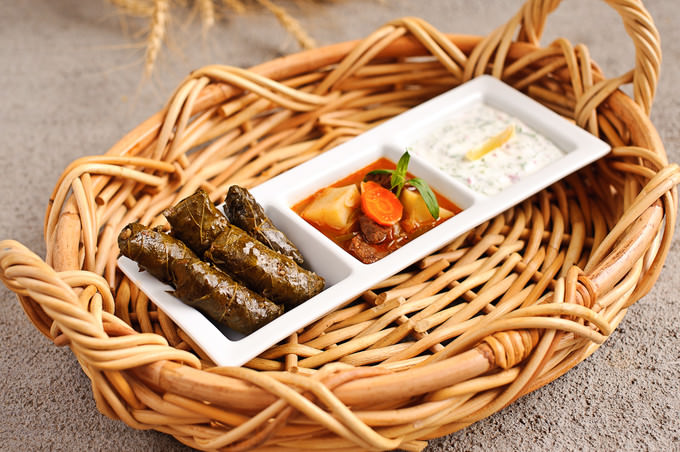 Bon Appetit! Enjoy :D