It all started getting out of hand at Steamboat Springs, where we went for a family vacation. Wanting to catch fish turned my husband to an avid fisher… Except there was no fish in our bucket! Nasim couldn't catch anything for almost 2 days! As if the rain was mocking my husband, it kept on pouring non-stop for three days! Finally, on the last day at Steamboat Springs, luck turned our way and Nasim was able to catch some fish. Not just any fish, but seven rainbow trouts each measuring about 15 inches! Since then, we do not have a problem catching fish or cooking it, as we both had plenty of practice! If you care for some grilled Trout recipes, follow along.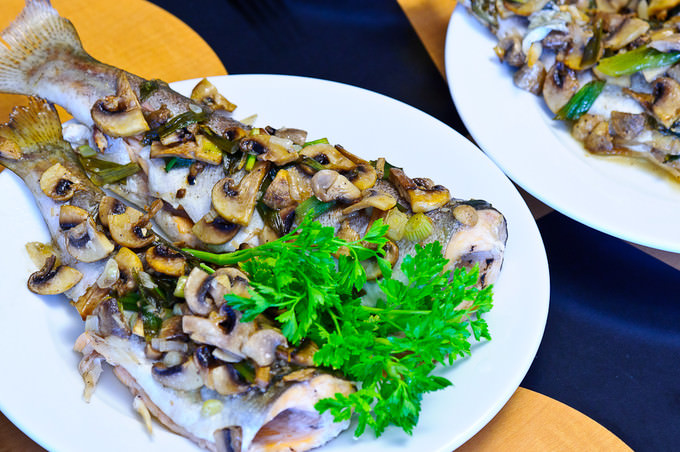 These particular Trouts are from a different trip. We didn't plan on catching fish that day, but Nasim had his fishing rod handy and he ended up catching some more fish for dinner at Glenwood Springs. Since we were in a hotel, I had to use whatever I had handy, to come up with something that tasted good. Luckily, extended stay hotels have means to make your life easier. With some basic ingredients, a stove and a hotel grill all worked out like a charm. One thing I highly recommend, is that if you want rainbow trout to taste good and fresh, you want to gut it right away and cook it on the same day.
Grilled Trout With Mushrooms.
4 rainbow trouts cleaned
2 cups of button mushrooms, sliced
4-5 scallions, chopped
3 tbsp of olive oil
salt and pepper to taste
Directions:
In a small pan saute mushrooms and scallions with olive oil, add salt and pepper according to your taste. Keep the heat on medium and saute for about 5 minutes. Make cuts on each side of the fish. Spread the mushrooms mixture all over the trouts, wrap in foil and grill for about 15 minutes.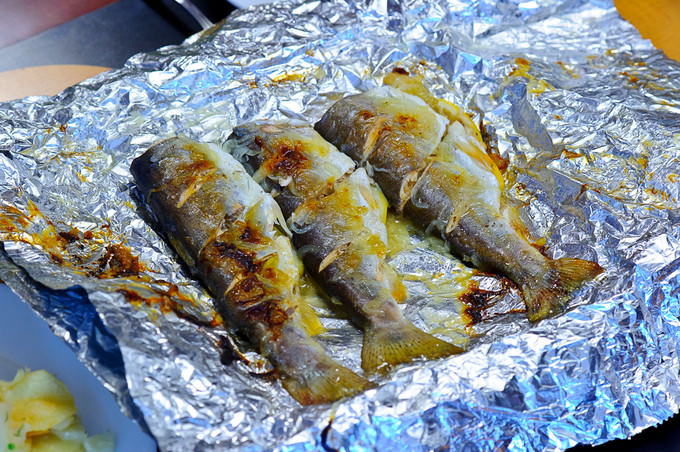 This second recipe is my favorite!
Ingredients:
4 small rainbow trouts
1 medium onion, thinly sliced
4 tbsp of butter
1/5 tsp sugar
1/5 tsp salt
pepper to taste
Directions:
Melt butter on medium heat and add onion. Saute until onions turn golden yellow. Add the sugar and caramelize the onion a little. Add salt and pepper. Make several cuts on each side of the fish. Rub the trouts with this mixture, wrap in foil and grill for about 15 minutes.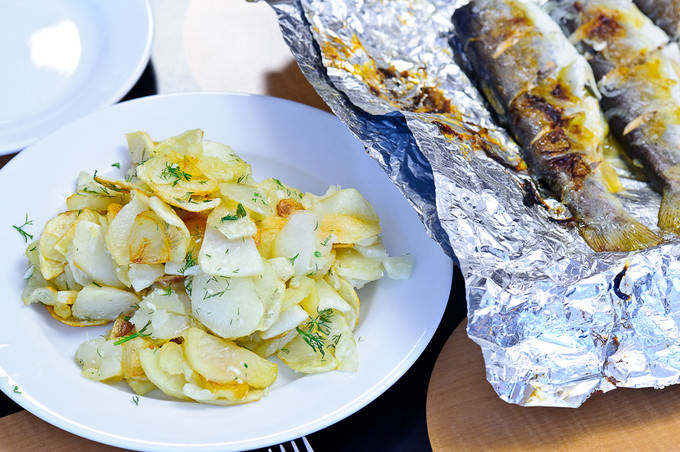 I hope you like it as much as we did!