I first tasted this dessert at our favorite Indian restaurant after my husband insisted that it was very good. I immediately liked it since the taste reminds me of Turkish desserts like baklava, revani and Kemalpasa. Since then, I have tried to make Gulab Jamun multiple times at home. It is a very simple dessert, but I admit that it took me at least 6 tries to make it the way it is supposed to be! This is a step-by-step recipe, so please follow all of the steps carefully and look at the pictures as a reference.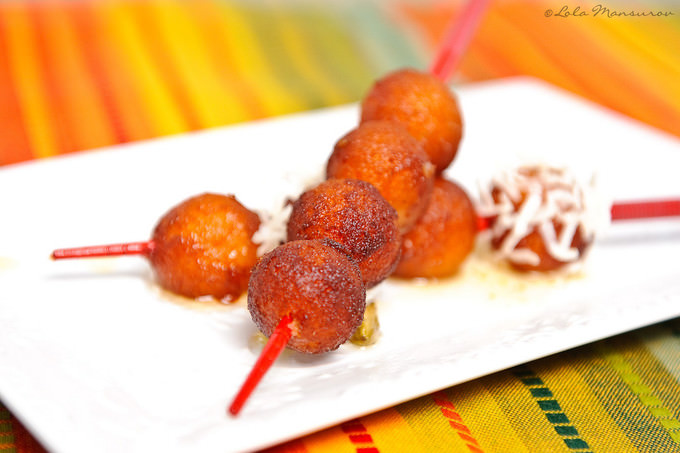 "The term Gulab Jamun comes from Persian, gulab, "rosewater" referring to the rosewater-scented syrup, and Hindi jamun, m., "Syzygium jambolanum" (also jāmaṇ, m., from Hindi), a South Asian fruit with a similar size and shape. A similar Arabic dessert is luqmat al-qadi (Arabic for judge's bread). Like the South Asian gulab jamun, rosewater syrup is often used; however saffron syrup and honey are also common".
Many recipes encourage the usage of rose water (that's what gulab means right?) but I chose not to use it simply because I did not have any rose water at home. Driving out in snow just to get the rose water was not so very realistic for me :) Maybe one day when I become a gourmet chef, my kitchen will have all ingredients available right when I need them. Meanwhile, I managed with ground cardamom and whole cardamom buds (drop a couple of those whole cardamoms in your tea, mmm, heavenly!).
You can serve them cold with hot tea after keeping jamuns in the refrigerator overnight or you can serve them warm with a scoop of vanilla ice cream on the side.
Now, my own experience was somewhat interesting. Although my husband rarely sights our kitchen, it was very pleasant to see him involved in the process of making one of his favorite desserts. I kept on having problems with the deep frying process. So, Nasim gave me a hand testing the oil and giving me the ideas about the dough. At the end, it all worked out and I was grateful for the existence of this dessert for uniting both of our efforts.
Ingredients:
1 cup milk powder (I purchased mine in a local Indian market. If you do not have Indian markets try Nestle milk powder or Nido milk powder, which can be purchased in many other grocery stores)
1/4 cup flour
3 tsp room softened unsalted butter
1/4 cup room temperature milk
1/8 tsp baking soda
1 cup sugar
2 cups of water
1 tsp ground cardamom
2 cloves of whole cardamom
rosewater (optional)
safron (optional)
Directions:
In a medium saucepan put sugar, water and cardamom. Mix it in medium heat until it starts boiling. As soon as you notice it boiling, put it on simmer (medium low) and let it stand there. Meanwhile, turn another burner on and place a pan with a thicker bottom to heat the frying oil. Note that gas and electric burners will function differently. If you are using a gas stove, keep it on very low while heating the oil and frying the jamuns. If you are using an electric stove, put it on 4 and let it the oil heat up until the jamuns are ready to be fried.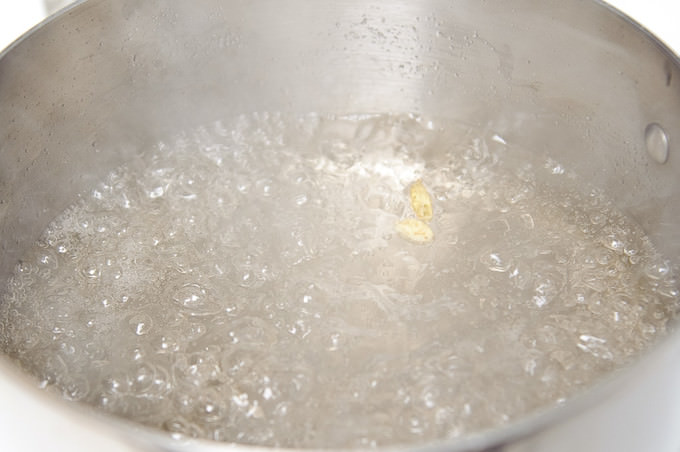 In a medium bowl mix all the dry ingredients of Gulab Jamun. Add butter and carefully mix it with dry ingredients.
When everything is mixed well, add milk and work the dough until smooth. Note that dough should be very, very soft and it should stick to your fingers. Milk powder will absorb a lot of moisture. So, you do not want your dough to be dry and crack later. From what I have noticed, having relatively moist dough is much more easier to cook than harder counterparts. Add a little more milk if you need to further shape the dough. When you are done, let the dough rest for a couple of minutes. This will make the dough soft and a little sticky to the touch. That's what you need.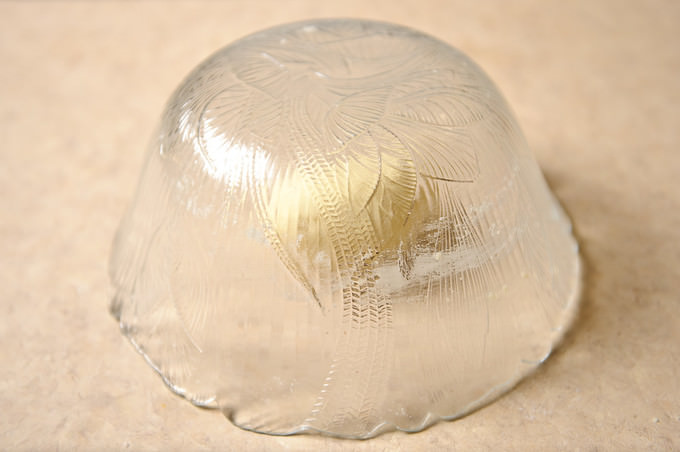 Once the dough is well rested, kneed it well and break it down to equal amounts. From each of them make a small ball without any cracks whatsoever. They have to be smooth and soft (mine would still stick to my fingers) – otherwise they will break while getting deep fried. Also making the balls this small is essential. While frying they will plump up. After you add jamuns to the syrup, they tend to absorb a lot of it, too. Another advantage of making smaller balls is to ensure even cooking inside out.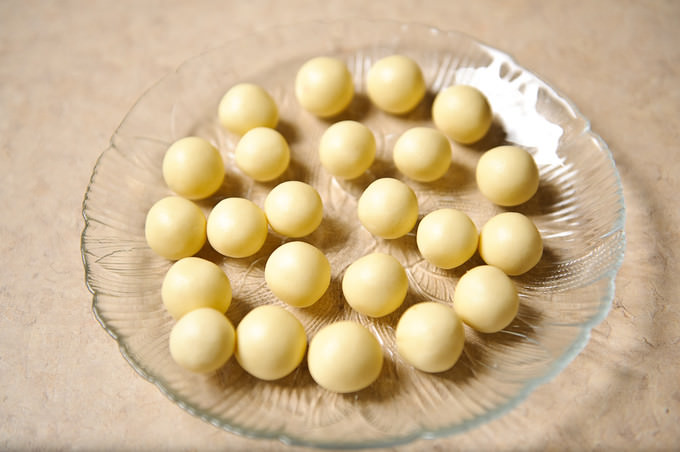 Drop one ball to test the oil. If the oil is ready, the first jamun will rise to the surface in about 15 seconds. PLEASE do not try to move the jamun from its place. After they rise from the bottom, then you can slightly navigate it with your spatula in order to cook them evenly. Try to fry 7-8 jamuns in one batch. This will aid even cooking and enough space for plumping gulab jamuns. It will take about 6 minutes for the each batch to get fully cooked. Be very patient and do not rush.
While taking out the jamuns, make sure that their surface is hard (looking at my picture you can tell that they are dark brown). Put them on a paper towel to get rid of the excess oil. Once that is done, emerge gulab jamuns into the syrup. As I have said above, you can either keep Gulab Jamun overnight in the refrigerator or you can serve it in 10-15 minutes. As simple as that :D
Enjoy!