I got inspired to make this easy and wholesome dish from one of our www.arbuz.com participants Beyazgul. Wanting to learn more about the dish, I did a little research of my own.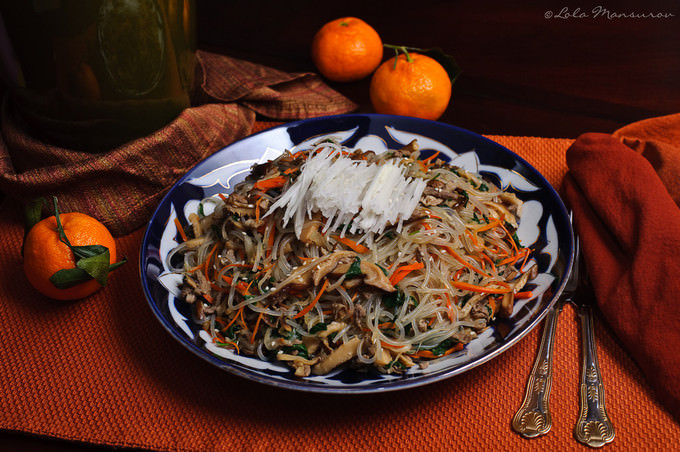 Apparently, Japchae (also known as chapchae, jabchae) is a pretty old dish, with a history of its own. Quoting Wikipedia:
History
Japchae was first made in the early 17th century, when the Joseon Dynasty was reigning in the Korean peninsula. When King Gwanghaegun hosted a big party at his palace, one of his lieges, Yi Chung, created this delicious dish to please the king's palate. The king liked this dish so much that he rewarded his liege by promoting him to the position of hojo panseo (hangul: 호조판서, hanja: 戶曹判書, equivalent to the Secretary of the Treasury). [1] At the time, japchae was made with a variety of vegetables and mushrooms, such as sliced cucumber, shredded daikon, and pyogo (shiitake) mushroom. Although dangmyeon (cellophane noodles made from sweet potato starch) was only added in the 20th century, Korean people loved the texture of the noodles so much that dangmyeon is now an integral and primary ingredient of this variety of japchae.
I really like addition of rice starch noodles and potato starch noodles in food an salads. So, I gave it a try for Japchae, which came out pretty well. But next time I will try to add variety of other ingredients like green/red bell peppers, eggs and scallions. Frying each ingredient in 1 tbs of sesame oil will give this dish an original taste of each vegetable and give a very colorful look at the end. But if you are in rush like me, go ahead and mix everything together while stir frying.
Ingredients:
12 oz noodle (Dang Myeon)
10 oz beef – julienned*
5 oz shiitake mushrooms or Chinese black mushrooms
2 medium carrots – julienned
1 large OR 2 small onions – julienned
6 oz spinach
2 tbs oil (I used olive oil)
2 tbs sesame seed oil
4 tbs soy sauce – might need additional soy sauce for seasoning
3 scallions, cut into 1-inch lengths
1 egg
green or red bell peppers- julienned
Salt & black pepper (pinch)
Sesame seed (pinch)
3 cloves of garlic minced
2 tsp of minced ginger
*Julienning is a method of food preparation in which the food item is cut into long thin strips
Directions:
Cook noodles according to package directions. Usually, you drop noodles into boiling water and keep them there for 10 minutes. Take them out and rinse them in cold water immediately. Cut the noodles with kitchen shears to small pieces. This makes them easier to mix with other ingredients.
Noodles
If you are using dry shiitakes, soak them in cold water for 30 minutes and rinse well afterward. You can leave the mushrooms as they are but I like them cut in smaller pieces.
Meat
Tenderloin or sirloin is best for this dish. You can also marinate the meat for 30 minutes using 2 tbs of sesame oil+2 tbs soy sauce+2 cloves of garlic, minced+ 2 tbs minced ginger. By doing this you should cut ingredients listed in half IF you are stir frying everything together. If you are frying every ingredient separately, you should first make the sauce out of sesame oil+soy sauce+garlic+ginger. Use half for marinating the meat and the other half use as a dressing at the end (adding salt and black pepper to taste). Either way, do not forget to julien the meat :D
Spinach
There are multiple ways of dealing with spinach.
1. You can add spinach while all the ingredients are being slightly stir fried. 2. You can add them during mixing process after the vegetables are stir fried.
3. You can put spinach in a hot water for couple of minutes. Drain them, and then add it during mixing process OR
4. You can stir fry ready noodles with spinach in a 1 Tbsp of sesame oil.
I chose the first method.
Eggs
Beat the egg, make an omelet. Julien and use as a topping for the dish.
In a large pan heat sesame oil+olive oil and start stir frying julienned beef for couple of minutes in medium high heat. Add onions, carrots, mushrooms, bell peppers, scallions, garlic, salt, pepper. Let cook for a few minutes, stirring, until the vegetables are cooked but still a little crisp. Turn down the heat to medium low. Add noodles, spinach soy sauce and ginger. Stir for couple of minutes. Turn off the heat and add sesame seeds. Toss well and your dish is ready to serve. It can be served hot or room temperature. Frankly, I loved it hot!
What is good about this dish, is that most of the ingredients are optional. So, use your imagination and create something you love out of vegetables you love.