Do you have seasonal foods, desserts and salads you like? A lot of my friends do. But it seems like I do not really have that kind of division. I can eat herring during the hottest summer day or I can make Kuksi and Go'ja in the middle of the stormy winter.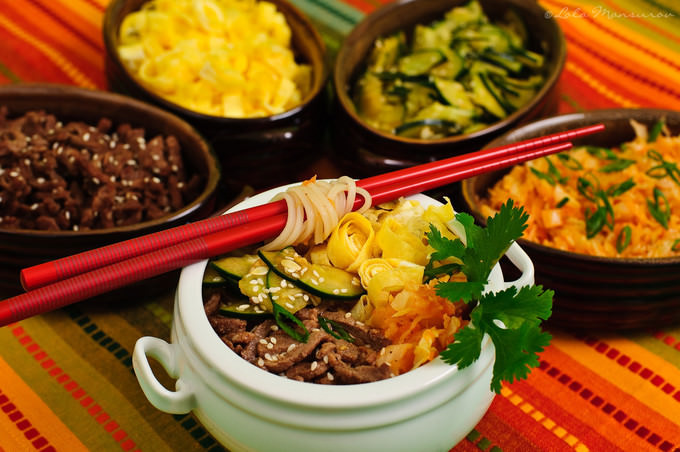 The recipe I am about to present is exactly the type, which you are supposed to eat in summer. Each ingredient is served in separate dishes, so that everyone can put as much of the stuff they want in their individual bowls of soy soup.
Kuksi is very refreshing and too addictive :) Easy to prepare and very delicious. A must try recipe!
Kuksi is Korean food, but I couldn't find much information about it on the web. All I know is that Korean people in Uzbekistan used to make it frequently and Uzbeks love it, too (that is if they have ever tried it :D)
Yield: 6 servings
Prep. and cook time: 45 minutes
Ingredients:
1 (1/2) pack of rice sticks OR half pack of angel hair pasta
10 Tbsp of soy sauce or less (proportion of soy sauce really varies due to personal preference)
2 cups of green cabbage thinly cut (into 1 cm cubes)
½ onion chopped
2 cloves of garlic minced
1 medium tomato (half diced, half grated)
1/3 tsp of Sriracha chili sauce (or any substitute)
1 medium cucumber peeled
¼ cup cilantro chopped
4 eggs
8 oz of lean beef or lamb julienned
oil/canola/olive oil
salt, pepper, sesame seeds
Water: boiled(cooled)/filtered/bottled for the soy soup
Directions:
Heat the skillet. Add couple of tbsps of oil of your choice. Dice half of a tomato and in medium heat saute it with chopped onions. Add chili sauce, cabbage, pinch of salt and half of the minced garlic. Saute well and add ½ cup of water. Mix a couple of times, turn the heat down to medium low and close the lid of the skillet for 5 minutes. When time is up, move the skillet from the stove but keep the lid closed until you transfer the ready cabbage to the serving dish. Cabbage should not be well cooked or overcooked. It should retain some crisp.
Whisk eggs well with a pinch of salt. Brush your non-stick pan (crepe pan) with little amount of oil, and on medium low heat make thin egg pancakes. Usually, I make around 6 pancakes. Make individual rolls from each pancake and set them aside to cool (you can make lose rolls or tight rolls; it is totally up to you). Once they are cool enough to handle, without opening the rolls cut the pancakes in 1 cm circles. Place them on a separate serving dish.
Cut a cucumber in four halves vertically. Keep each half horizontal and slice thinly. In a mixing bowl mix ready cucumbers, chopped cilantro, 2 tbsp of soy sauce, 1 tbsp of oil, the remaining minced garlic and 1 tsp of sesame seeds. Transfer to a serving dish.
On medium heat stir fry the meat until golden brown. Add salt, pepper (I add some cumin, too) to your own taste and also add ½ cup of water. Close the lid of the skillet, turn the heat down to medium-low and keep it like that for good 10 minutes. Check if the meat is well cooked, add ½ tbsp of sesame seeds, mix and transfer to a serving dish.
Cook the rice sticks following the package directions. If you are using angel hair pasta, boil the water in a large pan and add pasta (basically, follow the directions on the box, or a package). Make sure it doesn't get overcooked. Take out the pasta and immediately rinse with cold water. Pre-portion noodles in bowls half full.
In order to prepare the soup for the Kuksi I measure the water with the soup bowl I am going to be serving for the dish. If there are only 3 people (and yes, three of us eat 2 portions each) I take 3 bowls of water in soup server. Add 8 tbsp of soy sauce (add as much as you like) into the water. The color should be medium brown. Peel and grate the remaining tomato into the soup. If you would like, add a little vinegar, mix everything with a spoon and the soup is ready.
Serving:
Pour some soup in the bowls so that the liquid covers the noodles. You can either let everyone put their own ingredients or you can do it for them by adding a spoon full of every ingredient side by side. Serve with additional sesame seeds and offer soy sauce if anyone wants to add more.
Enjoy!