This pizza-like, thin, round dish, topped with herbs and minced meat (also known as Armenian Pizza, Turkish Pizza, Lahmajun and Lahmajoon) is very famous in Armenia and Turkey. In fact, that's how I first found it. My first visit to Turkey with my schoolmates left a lot of pleasant memories. Aside from staying at 5 star hotels and having a big allowance to splurge on anything I wanted (through high school sponsorship), I fell in love with the Turkish kitchen.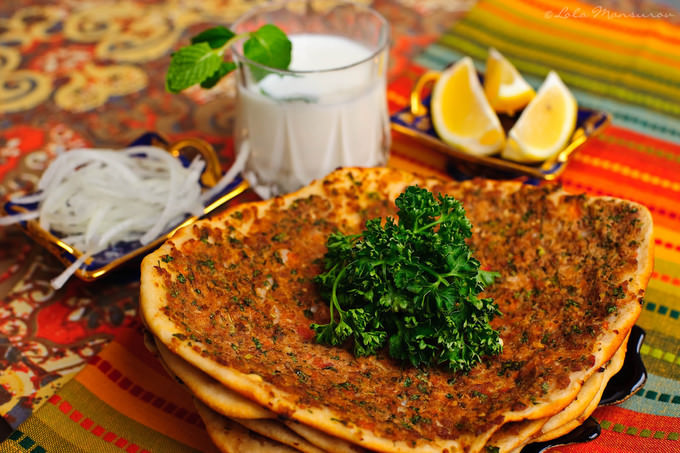 It was a very warm June day. After a walk on the pier, we were invited to a restaurant called "Gaziantep". From many meals we were offered, Lahmacun really stood out for me. Although I admit that I was very hungry, the smell, the taste and the healthy ingredients in Lahmacun impressed me so much that it quickly became my all-time favorite Armenian/Turkish dish. I love it so much that every time when we travel, I look for Armenian and Turkish restaurants that serve Lahmacun. To my disappointment, only very few restaurants in the United States actually serve Lahmacun…some say they are not equipped for it, some say that they only make it for some customers that special order it. Anyway, I do not want to sound like an advertiser who stops you at the mall and shows a product down your purse :P Make it, and decide for yourself if there is anything not to fall in love with!
Like any other pizza-like recipe, it is certainly nice to have a brick oven to bake Lahmacun, but I can assure you, it is absolutely doable in a simple conventional oven. Do not get upset if something doesn't go the way you wanted. You can always alter the recipe, according to your own need and taste.
If you have any questions, please drop a comment below and I will be more than happy to answer it.
Yield: 10-12 Lahmacuns
Prep. time and baking duration: about 2 hours
Ingredients for the dough:
1 tsp dry active yeast
0,5 tsp sugar
1+1/2 cup of warm water
4,5 cups of flour (you can use pain wheat)+
Little oil to brush the dough
Ingredients for the topping:
12 oz of minced beef or lamb (I always use 85 % lean beef)
1 big onion
2-3 cloves of garlic
2 Tbsp of butter
1,5 cups of fresh curly parsley
1 cup of fresh mint
1 medium tomato
1 tsp of chili pepper
1 jalapeno (optional) (I personally use pickled hot peppers instead of jalapenos)
1 tsp paprika (optional)
1 tsp of cumin (optional)
salt according to your own taste
Juice of 1 lemon
little oil to brush the dough
Directions for the dough:
In a small bowl mix yeast and the sugar. Add 1/2 cup of warm water, stir well, close the lid (or cover with plate). You can leave the bowl on the counter but I usually put it somewhere warm. Warmness accelerates the process and better activates the yeast. Activating yeast is important to have a better rising dough. Keep the mixture warm for about 15 minutes without opening the lid. When the time is up, you should have a nice foamy liquid. Even if you do not, still keep it and make the dough. It will still work.
In a large bowl combine the remaining water, flour and the yeast mixture.
Mix everything well and kneed it into a nice soft, springy dough. It should be soft as your ear lobes. Add flour or water as needed. A well-kneaded dough will be much easier to work with later. Keep this in mind!
Coat the dough with just a little bit of oil, cover with damp cloth and leave it to rise in a warm place. I usually cover the bowl with the lid and bundle it up nicely to have a good volume dough. Give it a rest for around 1 hour before you take it out from the cover. When you do take the dough out, make sure it has doubled in size.
Once the time is up, open up the lid and punch the dough a little. Flour the working surface and drop the dough. Cut it into pieces smaller than a tennis ball but larger that a golf ball. You should have about 10-12 pieces.
Roll each one and place on the floured surface. Cover with a damp cloth and let it stand until your topping is ready (20 min). Turn the oven on and keep it at 420 F.
Directions for the topping:
Meanwhile, prepare the topping. This picture really makes me smile. I love vegetables. I also love that ground beef in there :)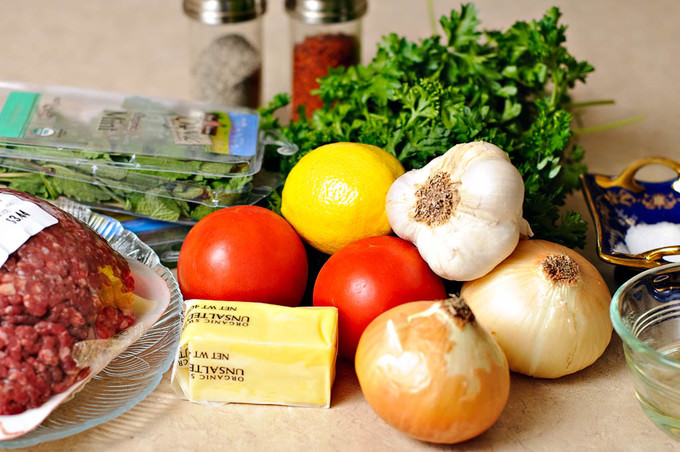 Wash the greens well and chop them nicely. I usually wash and soak parsley with mint in water prior to using them. This way all the dirt remains in the water.
Cut the onion and garlic in pieces, put the pieces into a chopper and chop until nicely minced.
Heat the skillet in medium-high, melt the butter, add onion+garlic mixture, saute for about 1 minute. Reduce the heat to low, close the lid and simmer for 2 more minutes. Take the skillet off the burner and cool the onion mixture.
Peel the skin off tomato and cut it to very small pieces. A lot of people like to seed the tomatoes. I don't like it, since it also removes all the juice from the tomato. But if you feel like seeding the tomato, go ahead.
Have all the ingredients in one big bowl. At this point, add chili pepper, salt, cumin, lemon juice, paprika, chopped jalapenos (or chopped pickled hot peppers) and mix everything very well. I am stressing this – the ingredients MUST be well mixed!
The dough is well rested at this point. Take one by one and roll into a round, flat circle or an oval measuring up to 5 mm in height. I like my Lahmacuns very thin. This way they come out a little crispy. My husband likes them much softer so I make his portion a little thicker but no more than 5-8 mm.
Some use pizza stones to bake Lahmacuns. While it is a good alternative for the original brick ovens, in my opinion, it is not very practical. So, I suggest using regular baking sheets. Sprinkle some non-fat cooking spray (or just a little oil will work), place rolled dough on the sheet, slightly brush with some olive oil (canola oil works too) top up with 2 Tbsp of the ready topping. Spread the topping evenly and very thinly.
I place 2 doughs in one regular 11″x17″ size baking sheet. If you have bigger sheets and want to use those, you are more than welcome to do so. 3 baking sheets are enough to keep the whole process going pretty fast. Put two baking sheets in the oven at a time. The top one usually gets baked faster. When you take the ready batch out, rotate the bottom one to the top and place a new batch on the lower rack.
The oven should remain at 420F – not too high and not too low. Since you are going to be constantly opening the oven, the temperature ideally will stay at about 370F. Cooked Lahmacuns are crispy at the ends and softer in the middle. Corners usually get nicely tanned. Take them off the baking sheet to a wider container and cover with a towel until you are done with every single one of them. Humidity under the towel will soften Lahmacuns, making it very easy for you to roll them around the fresh ingredients you might want to use.
Pace yourself, the process is a little overwhelming. But the end result is worth every minute of your time in the kitchen. We really enjoy Lahmacuns rolled around onions, some fresh curly parsley and hand-squeezed lemon juice.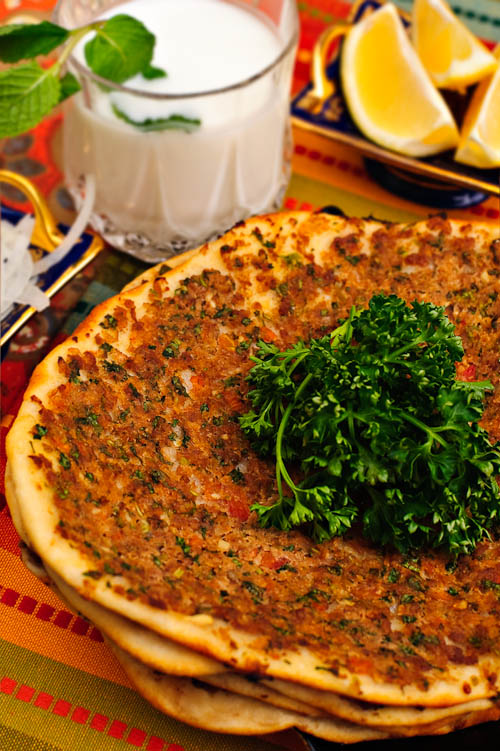 Bon appetit!