This fried liver recipe may not be a staple in many households, because not everyone enjoys eating liver. However, if you want to give liver a try, this recipe would be a good one to start with. My family loves liver, so we make this dish about once a month or so.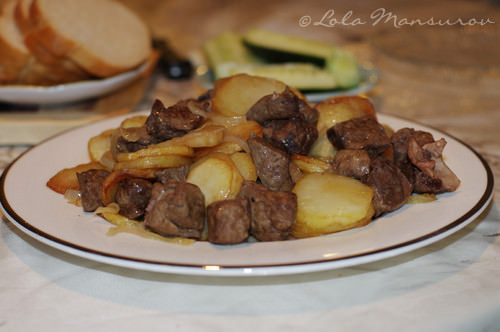 I had never liked liver in any form. Considering that people back in Uzbekistan eat liver quite often, every time my family cooked it or made a shashlik (kebab) from liver, I had to cook something else for myself. Until one day I was very hungry and couldn't bare the idea of cooking when there was a ready liver shashlik. Regardless of my dislikes I ate 2 whole skewers of liver shashlik made by my dad. Since then, every once in a while I cook liver meat myself. As long as it is cooked precisely right and not overcooked (which can happen in a matter of seconds) you have a very good dish for the entire family to enjoy.
For those who like fried liver with potatoes, here is a very simple method for a very delicious dish.
Ingredients:
1.5 lamb or beef liver
1-2 medium onions
3-4 medium potatoes
1/2 cup of oil of your choice (I use avocado oil)
Salt, pepper, little cumin and greens you prefer to be served with this dish (cilantro, dill, etc.)
Direction:
Peel and slice potatoes about an 1/8 inch thick. Put them in a medium bowl and mix a little salt to them. Cut onions in 1/8 inch half circles. Cut the liver in cubes twice bigger than dices.
Heat the oil in large skillet or a pan on a high heat. Fry the potatoes in high heat until golden. Turn the heat down to medium and add/mix onions to/with the potatoes. In 2 minutes add cut up liver and fry for another minute. Add a little pepper, salt and cumin. Try not to stir ingredients but instead flip them with spatula to prevent almost ready potatoes from being smashed. Close the lid of the skillet and turn the heat down to low. Immediately mark the time and in 10 minutes turn the heat off.
Serve the dish with greens you like and enjoy :)