Meatballs and cutlets are always a hit in our family. This is one of my favorite recipes since I was a little kid. It is very soft and doesn't require much chewing :P The combination of herbs, vegetables and all the other ingredients involved in this dish makes it a perfect dinner, lunch but not breakfast! :)
You can serve it to your guests and I am sure they will love it as much as you do!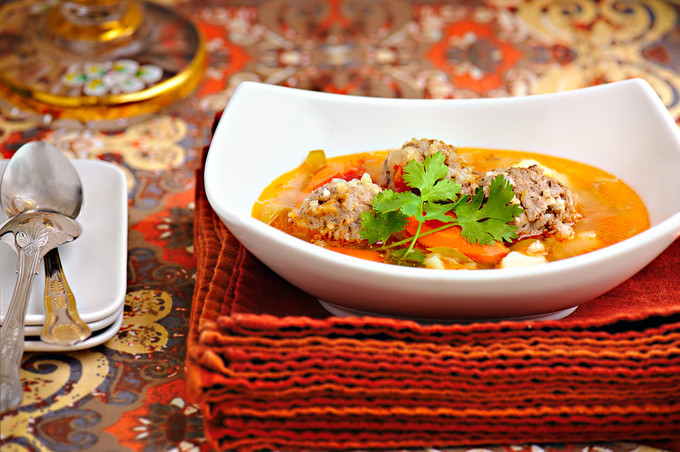 Ingredients:
1 lbs lean ground beef
1 cup rice
1 egg
1-1/2 medium onion
1/2 whole green pepper
1 tomato
2 medium potatoes
3 cloves of garlic
1 small carrot
1-1,5 tsp salt
1/2-1/2 tsp freshly ground pepper
1/2-1/2 tsp cumin
1/2 cup oil
6 to 8 cups of pre-boiled water
Directions for the meatballs:
Thinly chop 1 onion, place in a medium bowl, add 1 tsp salt, 1/2 tsp cumin, 1/2 tsp ground black pepper and mince the onion thoroughly.
Add washed rice, ground beef, egg to the onion mixture and combine everything thoroughly. Put the bowl into the refrigerator until needed.
Directions for the soup base:
Cut all vegetables according to your own shape preference. I like to cut potatoes in big cubes, half circle onions, julienne green pepper, chop garlic and ring from carrots. Thinly slice tomatoes and set vegetables aside.
On medium-high heat, place medium-sized pot, heat it up a bit and add oil. In a couple of minutes, add a tiny bit of the meatball meat to give the broth a good taste. Fry the meat for couple of minutes and add onions. Saute until onion turns golden. Add tomato, saute until tomatoes get softer. Check the heat, if it is too high for you, turn it down a notch. Add all other vegetables and saute for couple of minutes. Add salt, cumin, black pepper and saute for another couple of minutes.
Add water and turn the heat down to medium low. Take out the meatball mixture and start shaping golf ball size circles. Once you are done slowly and one by one  emerge meatballs into the soup. Under no circumstances do not mix the soup right away. Let the meatballs harden a bit for you to be able to move them without breaking their shape.
Bring the soup to boil. Once the soup starts to boil turn the heat down to medium low. If you see a little foaming from the meat and you do not like it, using a spoon slowly gather the foam away.  When you turn the heat down to medium low. Half close the lid of the pot.
Cook the dish for 30 minutes. Turn off and completely close the lid for 5 minutes. When meatballs and vegetables are fully cooked, take the meatballs out of the soup, place them in a separate container. When serving, pour some liquid in soup bowls and place 2 or 3 meatballs in each bowl. Garnish with cilantro or green of your choice. A good addition to this dish would be a 1 Tbsp of sour cream! :) Que Belissimo!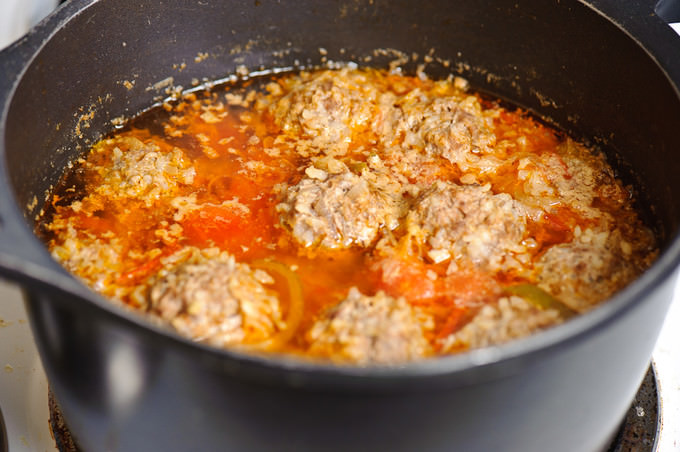 Bon Appetit!