Mongolian Triple is one of our favorite Chinese/Mongolian recipes :) We eat it pretty often at our local Chinese restaurant called "Hoong's Palace". The food and the service at that restaurant is just superb, so if you happen to come to Denver or if you already live near Denver, you have to check the place out!
Why Mongolian Triple?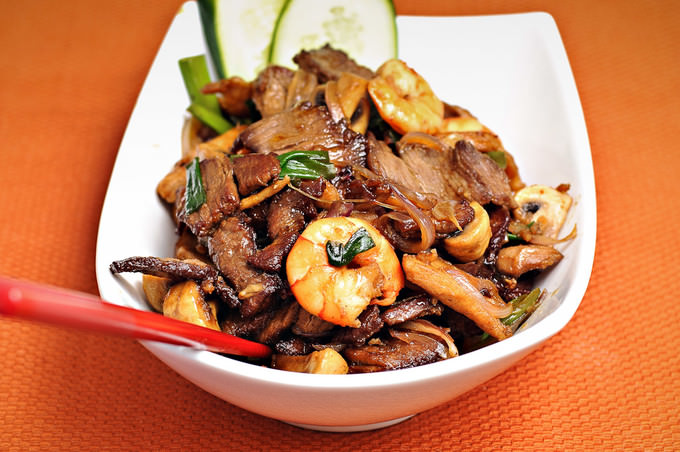 Mongolian Triple stands for Beef, Chicken and Shrimp cooked in a sweet and sour sauce, the same way Mongolian Beef is cooked.
I've been trying to re-create the recipe from Hoong's Palace for a very long time now, but I have never succeeded. I was bold enough to ask the chef if I could get the recipe. Well, if you think I got the recipe, boy you are wrong! Another recipe with my additions and alterations came out a bit close to that of Hoong's Palace. I decided to share it with you, since my family said it was darn good already.
Feeds about 5 people.
Ingredients:
1 LB of fillet Mignon
1 LB of chicken breast
1 LB cleaned shrimp
little bit of corn starch
1 cup and 2 TBSP of peanut oil
1 tsp fresh ginger, minced
1 tbsp garlic, minced
1/2 cup of low sodium soy sauce
1/2 cup of water
1/4 cup dark brown sugar
1 TBSP hoisin sauce
10 oz of button mushrooms
1 bunch of scallions
1/4 of red onion
1/2 tsp Cayenne pepper
Directions:
Thinly slice fillet mignon and chicken equal to matchbox size. The easiest way of thinly slicing this meat is to make sure that it is slightly frozen. When the meat is thawed well, pat it dry with a paper towel. This will create nice, crispy, brown strips of meat instead of a colorless mess.
Sprinkle each side of the meat with some corn starch. Heat 1 cup of oil on the skillet (high heat). Start frying the meat for about 5 minutes on each side. It gets a little dangerous here :) You can turn down the heat and let the meat caramelize nicely. Or you can turn the heat up like me and end up with an oily mess around your stove. The latter happens pretty quickly and the meat gets cooked faster. But again, it is going to be messy! Whatever you do, the meat shouldn't be cooked all the way through. It needs to be nice and brown from the outside but not so well done in the inside.
Once you are done frying both chicken and beef, discard the oil. Clean the skillet (or use another one) and place it on the stove top. Heat 2 TBSP of oil and add minced garlic along with minced ginger. Saute for about 2 minutes and add water, soy sauce and hoisin sauce. Turn the heat down to medium-low and simmer the sauce. I usually add some Sirarcha hot sauce to make this dish a little spicier. Set the sauce aside. Place previously cleaned skillet on the stove.
Quarter the mushrooms, slice the onions and cut the cleaned scallions in 2-inch long strips.
Place shrimp on the skillet and on medium-low heat, cook the shrimp evenly on both sides. Sprinkle with some Cayenne pepper. Remove the shrimp from the skillet once it turns pink. Add chicken and beef back to the same skillet, turn the heat up a little and give another fry to the meat for about 5 minutes. Add mushrooms, shrimp and let all ingredients cook for another 2 minutes. Add the sauce and simmer the dish for about 2 more minutes. Add raw vegetables, toss everything together once or twice… Viola!
Your super-duper Mongolian Triple is ready! Don't forget to tell me how you liked your Mongolian Triple :D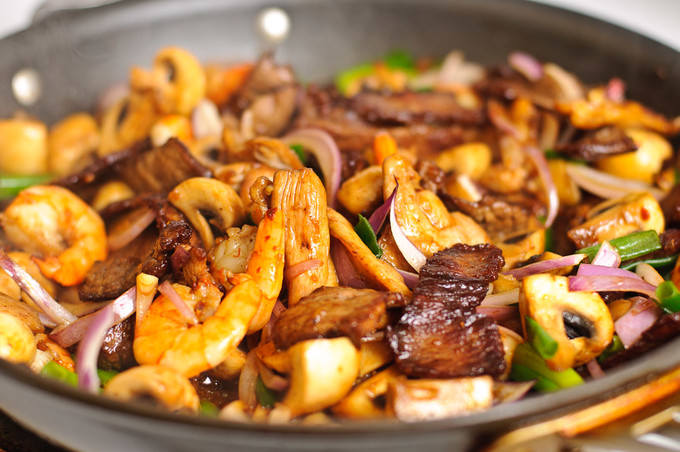 Bon Appetit!