Although I am not aware of the exact origin of Mung Bean Soup, a.k.a. Moshxo'rda in Uzbek (Mosh-bean, xo'rda-pottage), a.k.a. Mung/Moong been soup, looking at similar recipes I can tell, that it was most probably widely cooked among old time Uzbek farmers. It is relatively easy to make and does feed a lot of people. As far as I know not a lot of Uzbeks like this soup. But my family does enjoy it and I make it fairly often. You do have to try it once to understand if you like it or not :D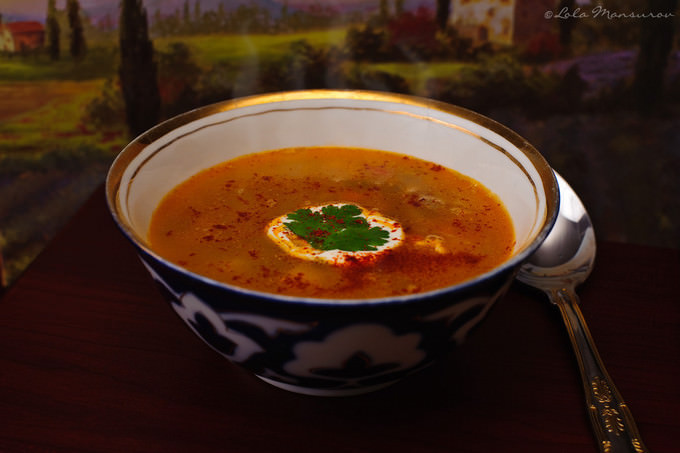 What is good about this soup is that you do not have to use a lot of meat and I always add variety of vegetables to make it healthier. Mung beans by themselves carry a lot of beneficiary elements like minerals, vitamins, lipids and amino acids. They are widely used in Indian, Chinese, Japanese and Vietnamese kitchens. I should also admit that mung beans (mosh) we use back in Uzbekistan are a little different than the ones I buy here. Here they are bigger in size, taste a little different and take much longer to be fully cooked.

Yield: 4-6 servings
Prep. and cook time: 1,5 hours

Ingredients:
5 oz. beef cut in small cubes
1 cup mung beans
0,5 cup rice (brown rice can be used)
1 medium onion
1 tomato
1/2 green bell pepper
1 medium carrot
1 large potato
3 cloves garlic
4 tbsp canola oil
1 tsp cumin
1 tsp black pepper
2 tbsp salt (add and subtract according to your own salt intake)
8 cups of boiled water (keep boiled water ready in case you will need to add more)
extra 3 cups of water to boil mung beans
Directions:
Make sure beans are clean and washed thoroughly multiple times. On medium heat using a small pot or a sauce pan boil 3 cups of water and mung beans until beans soften and green shell slightly breaks. Drain the water and set aside.
While beans are still boiling you will have time to get your other ingredients ready. Cut the meat, bell pepper, carrot, potato in equal 1″ to 1/2′ cubes. Potatoes need to be put in cold water to keep them from turning darker in color. Tomatoes and onions need to be julienned. Mince garlic cloves.
Heat oil in 5-quart stock pot in medium high heat. Add meat, stir fry it until golden reddish color. Add onions, salt, black pepper and cumin. When onions are golden yellow, add tomatoes and garlic. Stir fry until tomatoes are finely mushed. Add bell pepper, carrots, boiled mung beans. Stir fry for another minute and pour ready boiled water into the stock pot. Once the soup starts boiling, turn the heat down to medium-low. Add potatoes. After 10-15 minutes add washed rice (wash rice thoroughly right before adding to the soup).
Cook until rice is ready. As soon as rice is cooked, take the stock pot from the heat. Soup is well served with cilantro and dills. Also, adding plain yogurt or sour cream is highly recommended. My husband gets creative; he likes adding a little red wine vinegar and a little paprika to his soup.
Enjoy!