I have a special relationship with Naan (we call it "Non" in Uzbek language) – I like it with everything! In fact, my whole family likes bread with everything. Indian Naan and Uzbek Non share something more than the similarity of the names. They are both baked in a clay oven and resemble in taste. Naan translates from Persian as bread and it is very popular in many Middle-Eastern, South Asian and Central Asian countries.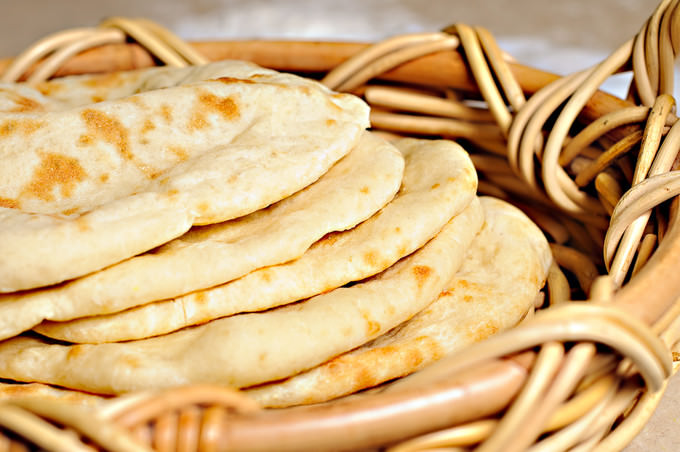 This recipe is a keeper for those who enjoy Naan. It goes very well with many of the Indian dishes that we love, in addition to various soups, appetizers and main dishes. Many people believe that Naan can only baked in a clay oven. Since we can buy pizza stones in stores now, we can bake very good Naan in our regular home ovens now – the process just takes a little longer, since it bakes at 500F, not 800F as it would in a clay oven. For the record, no, I am not attempting to compete with a real tandoor :D
Yield: 8 medium flatbreads
Ingredients:
2 cup of warm water
1 cup warm milk
1 Tbsp of active dry yeast
1 tsp of salt
1/2 tsp of sugar
1 egg
2 Tbsp of oil
5 1/2 cups of sifted all purpose flour (+)
sesame seeds (optional)
butter (optional)
Directions:
Pour warm water into the medium container, add yeast, sugar, salt, egg, warm milk, 1 Tbsp of the oil an mix everything well.
Add sifted flour and quickly work the mixture into a nice dough. 1 cup of flour will measure about 230ml of liquid. Make sure you are taking the right amount of flour. Also, the density of flour can be very different depending on the type of flour you are using. If you need to add more flour to obtain what you need, do so.
The dough should be very soft and managably sticky to your hands. If it is too sticky and hard to work with, rub a little oil into your palms and fingers and keep on kneading the dough. Rub remaining oil over the dough and cover the lid over the container.
Place the container in a warm place until the dough doubles its size (for about 40 minutes). PREHEAT THE OVEN at 500F. I use my pizza stone to make fine Naan. If you are doing so, leave the stone inside the oven (center rack) while it is getting heated.
Once the dough is ready, turn it over to a floured surface and shape tennis ball size circles out of it. It will still be a little hard to work with the sticky dough. To avoid the dough from sticking to your fingers, frequently flour them and work faster. (If it makes it easier, dip the dough balls in the flour once). Let the balls rest for about 10 minutes.
Once the dough has rested, put one risen ball of dough on the floured work surface and push it out with your fingertips to a 6 or 7-inch round. Gently pick it up and toss it from the left palm to the right palm multiple times. The dough will be sticky. So, try to work faster.
This process will create a nice triangular or oval-shaped dough. If you wish, you can spread some butter on top of the flat dough and sprinkle some sesame seeds. Open the oven door and gently place the dough on top of the hot pizza stone. Bake for about 3 minutes and take it out when the top has slightly golden-brown spots. Remove the bread with a wooden spatula from the pizza stone and continue with the remaining dough balls.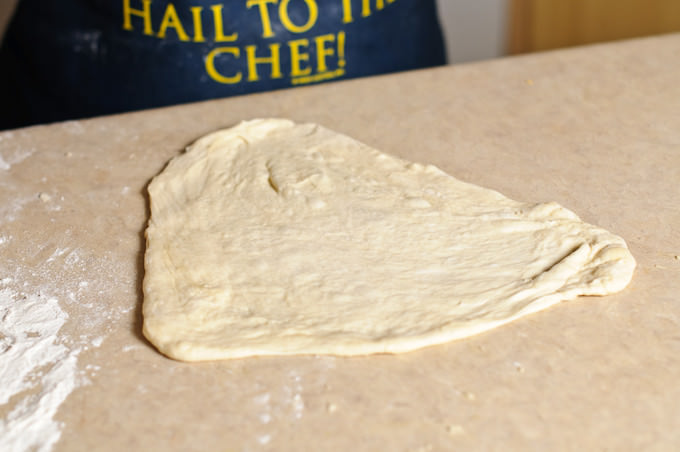 When I use the pizza stone, I always make 1 bread at a time. If you are utilizing your baking sheets, the temperature of the oven will remain the same. But you can place 2 doughs on the same baking sheet to save you some time. With this method, baking will take a little longer (about 5 minutes per each entry).
Enjoy your home-made Naans. Hummus here we come! :D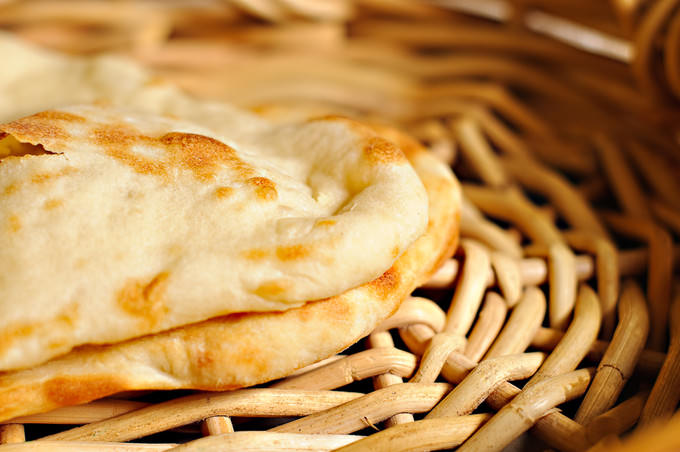 Bon Appetit!