Come summer it gets too hot to eat hot food. So, we tend to deviate towards more refreshing, cooler entrees. Okroshka is one of those refreshing soups served cold and is mostly made of raw vegetables. Most people may not know what Okroshka is and may not like the fact that it is made with Kefir or butter milk. If it makes any difference, original Okroshka is made with Kvas as a soup base. Kvas is a beer-like non-alcoholic drink. It is slightly sweet and has a very rich taste. Well, we chose a leaner and healthier version of Okroshka :)
My mother-in-law is a great cook and while she is visiting us, I am planning to learn as much as possible from her. Okroshka was the first thing she taught me and I just love this recipe! I decided to share it with you guys. Maybe some of you will brave it to make this fantastic and refreshing dish.
By the way, another thing about my mother-in-law is, she remembers every single recipe by heart! How cool is that? :)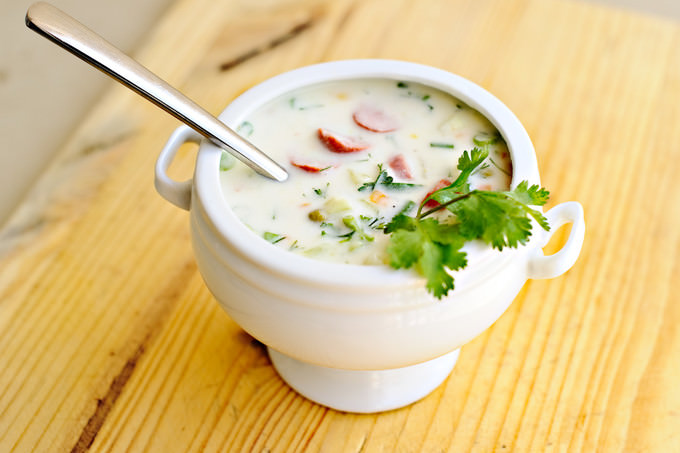 This recipe will not be as picture-detailed as I usually make them since we remembered taking pictures half way through but it is going to have clear instructions :)
Our portions in the pictures are much larger since we were making Okroshka for a big group. So, I will give you an estimate enough to feed 4-5 people.
Images may not be the greatest as they were taken in low light situation.
Ingredients:
1/2 can of sweet peas (water drained)
1/2 cup of cilantro chopped
1/4 cup of dill chopped
1/4 cup scallions chopped
1/2 medium cucumber chopped
3 beef franks (8 oz. boiled/cooked meet of beef is highly preferred)
3 hard boiled eggs
1 medium carrot boiled
2 potatoes cooked
2 cups of plain yogurt or kefir
1,5 cups of water (if you are using kefir, use less water)
black pepper
salt to taste
Directions:
Place all chopped ingredients in a large bowl. Cut the meat or beef franks thinly.
Chop up the eggs, boiled carrot and previously cooked potatoes. Add everything to the bowl.
Dilute yogurt with water and pour over the remaining ingredients. Add black pepper and salt as needed.
Wasn't that easy? :) I hope you enjoy it as much as we enjoy it every time!
Bon Appetit!