Khachapuri is a Georgian appetizer, which consists of a dough and a springy cheese filling. My husband is in love with these little things. They always remind him of the vacation days he spent in Georgia, while he was a little kid. Nasim asked me if I could make Khachapuris for him a while ago. Since then I've been looking for the perfect and dead on recipe of Khachapuris.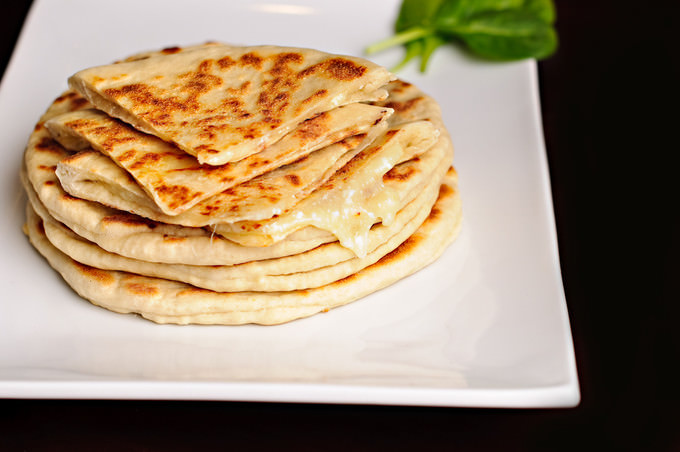 I admit that there is a myriad of recipes of Khachapuri on the Internet. Well, I might as well admit, that I have never tried real Khachapuri before. So, my husband is the biggest appraiser in this challenge :) He tried a couple of them and did not like them at all.
We found this recipe pretty unique and decided to share with our readers. Although it was not quite what I was looking for, it went pretty well with my Pearl Meatball Soup. Hubby says, this particular type of Khachapuri reminds him of Cheese Quesadilla. I say, it is a darn good home made quesadilla then :P These are super easy to make and take minimal time to prepare.
Yield: 4 pancakes
Ingredients for the dough:
2 cups all purpose flour
1/2 tsp salt
1/2 tsp sugar
1/2 tsp baking soda
3/4 cup plain yogurt
Ingredients for the cheese filling:
7 oz. (200 gr.) mozzarella cheese or Georgian Sulguni cheese
5 oz. (150 gr.) feta cheese (I used goat cheese)
3,5 oz. (100 gr.) cottage cheese
salt and pepper (optional)
Directions for the dough:
Mix dry ingredients and add the yogurt.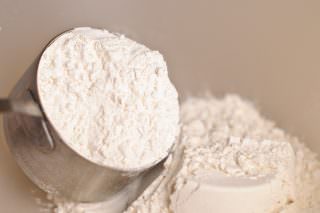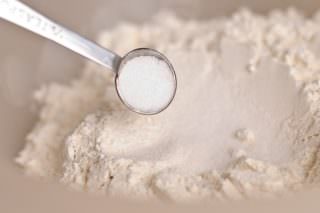 Knead a soft dough. It should be a little sticky to the hand. If you follow the recipe to the T, there is no need to add more or less ingredients to it. Cover the ready dough with a plastic wrap and let it rest until further use.
I did not have enough cheese. But still decided to use what I had. If you have the means, please do follow the cheese combination. It will only make your Khachapuris better :) Put all the cheese in one medium bowl and knead all of them together, turning them into one mixture.
Shape 4 equal balls out of ready cheese mixture and set aside until further use.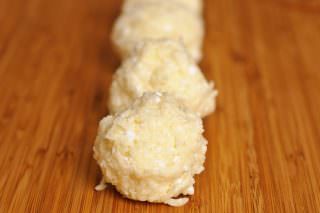 Take out the rested dough, make a pin like shape and cut into 8 equal sections.
Flatten the mini doughs and roll little pancakes measuring 5 inches in diameter.
Put one of the cheese balls in the center of one pancake, cover with another pancake. Gently press the cheese down, press the corners of two pancakes and roll again to create 10 inch round pancakes. Remember, you should have a little more cheese than I have in the pictures.
Heat the skillet on medium heat, place the pancakes in the middle, cover the lid and cook on each side for 3 minutes.
While this was a nice addition to my cookbook, I will most certainly keep on looking for other recipes for other types of Khachapuri. Meanwhile, enjoy this one :)