If I can describe this soup in three words, they would be: healthy, easy and delicious! Even my picky son Omar loves this soup (except I have to fish out the vegetables from his bowl, just because he doesn't like bright colors in his food).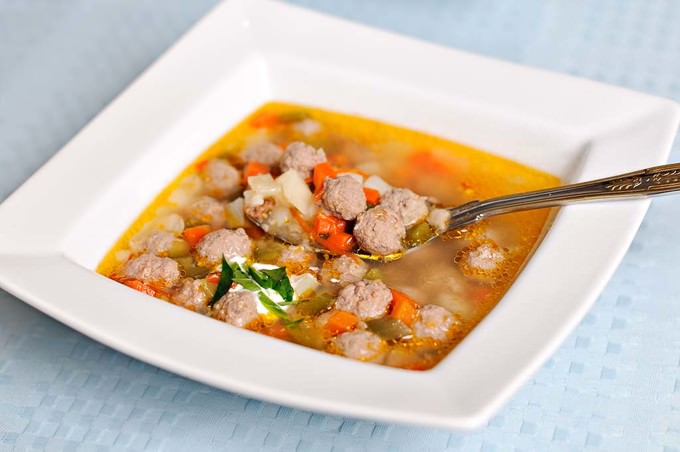 The most time-consuming process in this recipe, is to shape the tiny meatballs that I call "pearl meatballs". So, I recommend that you first take care of the meatball part and then start cooking the soup itself. If you want to do it during the process of cooking, like I do, be my guest.
Ingredients:
1 lb of ground beef (I used 85% lean)
1 large onion
1 small egg white
1 medium potato
1 medium carrot
1/2  green bell pepper
1 medium tomato
3 cloves of garlic
6 cups of pre-boiled water
1/2 tsp salt for the meatballs and 1 tsp for the soup (alter the salt use as you prefer)
1/2 tsp ground cumin for the meatballs and 1/2 tsp of ground cumin for the soup
1/3 tsp ground black pepper and 1/3 tsp for the soup
1/3 cup rice
1 bay leaf
4 Tbsp of oil of your choice
Directions:
Wash all of the vegetables. Cube carrot, green pepper and potato, set aside.
Slice the tomato thinly, set aside. Chop the garlic up and set aside, too.
Mince, grind or chop the onion. In a medium-size bowl, gather ground beef, herbs (cumin, salt, black pepper), onion, egg white. Mix the ingredients nicely, until everything is well-incorporated.
Make 4 miniature (approx. 1 inch) meatballs. These first meatballs will be used to give the soup a nice beef broth base. On medium temperature, heat the oil in a large pot (for approx. 4 minutes).
Add the meatballs to the pot and stir fry them until nicely golden. Add tomatoes and stir fry until they loose their shape and get very soft. Everything will happen relatively quick. Keep on stirring in order to prevent the bottom from sticking. Add the vegetables and stir fry for couple of minutes.
Add the garlic and toss the vegetables a couple of more times.
Pour the water into the pot and add the remainder of the spices. Gently stir the soup and turn the heat down to medium-low. Shape up the meatballs, start dropping them in the soup one by one. Once done with adding the meatballs, let the soup cook for 30 minutes.
When the 30 minutes are up, add the rice and the bay leaf. Stir one more time, cook until the rice is ready. Viola!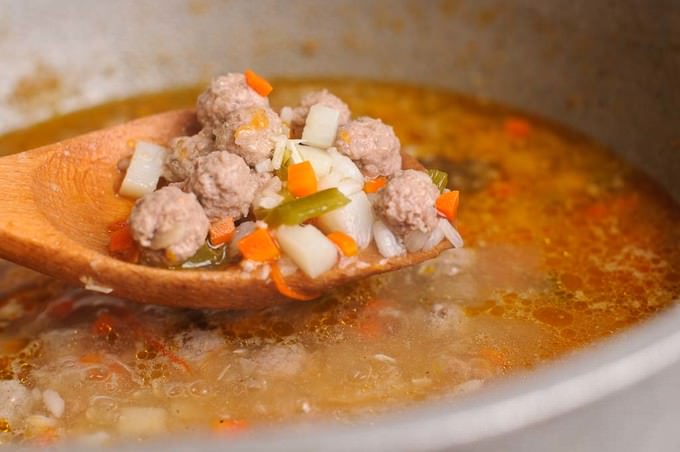 Bon appetit!