Pide, also known as "Pita" in some countries, is a pizza-like dish, typically served as a part of Turkish, Armenian and Middle-Eastern cuisines. This particular recipe is for the Turkish version of Pide, that comes in different toppings and is served in many of the popular Turkish restaurants worldwide.
I have been searching for a good recipe of Pide for a while now. The main issue for me was the dough – it is somewhat pizza-like. The dough should be chewy and very soft. I tried making it once, but it didn't come out as good and it was not as chewy as I would want it to be. Plus, it is very hard for my children to nibble on something hard.
Patience indeed is a virtue. My search of the ideal dough recipe for Pide ended today. A Russian lady in one of the online communities I am member of, graciously shared her recipe of Pide. I quickly adopted a part of her recipe, which helped me to recreate that exact Pide I ate years ago in a Turkish restaurant. I put together a combination of toppings we like and decided to share it with you.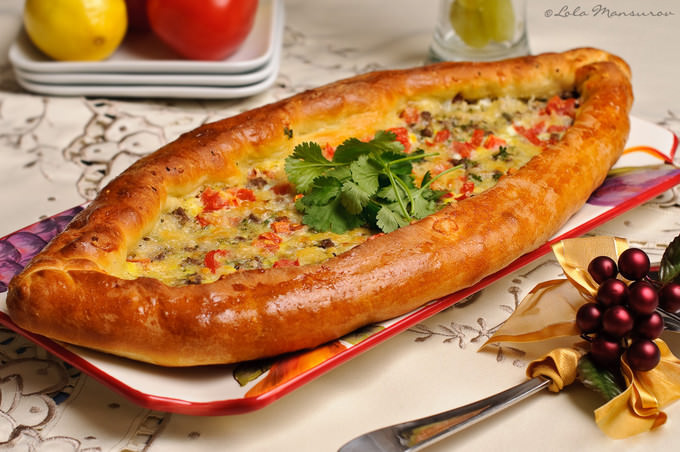 In Turkey, every region has its own way of making Pide. The dough mainly remains the same, but the toppings vary. The topping that I am going to use, is the most appealing to me and is altered according to the taste of my family. You can most definitely try your own topping combination. It could be veggies, just cheese, sausage, etc. It is not as time consuming as it may seem. It will take you less than an hour to put it together, bake and serve.
Yield: 2 large Pides
Ingredients for the dough:
1 Tbsp of active dry yeast
1 cup of warm milk
1 tsp of sugar
1 tsp of salt
1 egg
3 Tbsp of vegetable oil
3 cups of all purpose flour
Ingredients for the topping:
10 oz of lean ground beef
1 medium onion chopped
2 cloves of garlic chopped
2 Tbsp of butter or vegetable oil
1/2 tsp of cumin
1/4 freshly ground black pepper
1 tsp of salt
1/2 cup of curly parsley chopped
2 Tbsp of fresh mint chopped
2 Tbsp juice of lemon
1 medium tomato cubed
1 cup of mozarella cheese
1+1 eggs (2 total)
Just a little bit of starch
Directions to make the dough:
Make sure that the milk is really warm. Put the milk in a medium size bowl, dissolve the yeast in the milk, add the egg, sugar, salt, and oil. Mix everything well and add the flour. Kneed a nice, smooth and springy dough.  I precisely measured the amount of flour needed. I hope you will not need more. But if you do, add 1/2 cup or less.
Grease the dough with just a little bit of oil, put a damp cloth over it and cover with another towel. Let the dough rest for 30 minutes.
While the dough is resting, prepare the topping for Pide. Heat the skillet in medium heat, melt the butter, add chopped onions along with chopped garlic and add the ground beef. Add salt, black pepper and cumin. Saute for 4-5 minutes. Once done sauteing, move the skillet away from the oven top and let the meat mixture cool.
Cut the tomato in small cubes and keep aside until you need to use it. In a medium bowl, mix the cooled meat mixture, chopped parsley, chopped mint and lemon juice. Mix ingredients well and set aside. Preheat oven at 400F.
Once the dough is rested, it should double its previous size. Take out the dough to the floured surface, cut into two pieces. This way you will have two large Pides.
Make round balls, set one aside and work with another one. Using a rolling pin, roll an 18 inch, thin oval.
Transfer the oval dough on the baking sheet and pat the dough with just a little bit of starch. This will prevent the dough from getting soaked with the moisture of the filling. Evenly spread half of the meat topping on top of the dough. Place half of the cubed tomatoes on top of the meat topping and sprinkle half of the shredded mozzarella cheese on top.
Fold the sides of the Pide, creating a boat-like shape.
Beat one egg with a fork. Using a pastry brush, brush the sides of the Pide with the beaten egg. Slowly pour the remaining egg over the meat topping evenly.
For the second Pide, I tried a different combination. I added mushrooms and chili peppers. The second egg is used on the second remaining dough. Place Pide in the oven and bake for about 25 minutes OR until golden brown.
I didn't have time to cut Pide and show you how it needs to be cut. Everyone was so hungry, they just started nibbling right on the kitchen island :) It comes out very soft and chewy. Before serving, cut the Pide in two halves and cut those halves horizontally: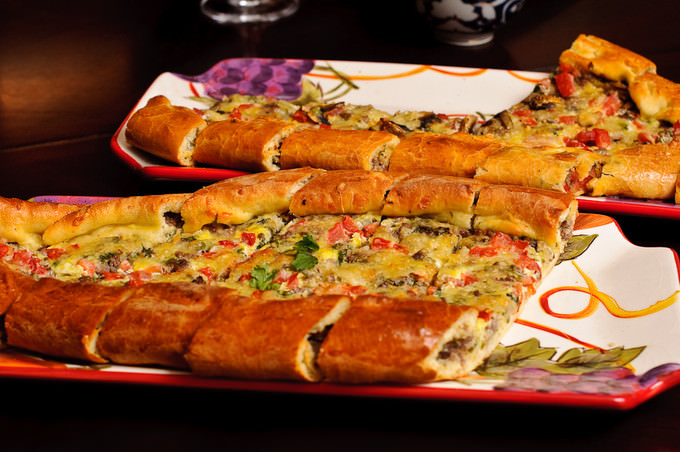 This is how the mushroom-topped Pide came out.
Enjoy!
If you have any questions, please leave them in the comment section below and I will do my best to answer them promptly. Bon Appetit!