There are so many pizza dough recipes out there and while all of them might be good, I keep coming back to my old and trusted dough, which turns out consistently good every time. Especially when almost all the baking is done in the regular ovens, and not in the clay ovens, this dough is quite forgiving and will not turn hard the next day after baking. I use this recipe on a multiple other recipes which require a similar dough. Turkish Pide and Adjarian Khachapuri being some of them.
It is very easy to follow and rises in only 30 minutes. This recipes makes 2 12 inch pizzas or cut up in smaller pieces can be used for other recipes. Double the recipe if you would like a thicker crust pizzas.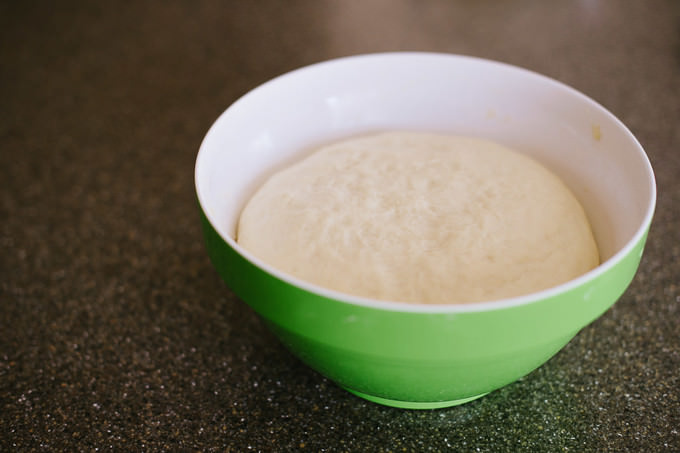 Ingredients:
1 Tbsp of active dry yeast
1 cup of warm milk
1 tsp of sugar
1 tsp of salt
1 egg
3 Tbsp of vegetable oil
3 cups of all purpose flour
Directions to make the dough:
Having the milk warm helps the dry yeast activate faster, which in terms helps the dough rise well. Sugar also aids in this process, which feeds yeast. Place warm milk in a medium bowl and add sugar, yeast and salt. Give the mixture a stir and cover it with a plastic wrap or a plate. Wait for about 5-10 minutes until you see some froth forming on the surface of the mixture. Add oil and the egg. Give it a stir with a fork and add the flour. Be careful adding the flour. Consistency of the flour is different depending on the brand of the flour you might be using. Always leave a cup to incorporate it at the end, as needed. Chances are you will still use all of it. But if you notice that the dough is getting harder, it might be time to stop adding more flour. The opposite might be true, too. If you add all the flour and your mixture is still a little wet, add a little more flour than listed on the recipe. After you have added the flour kneed a nicely soft dough.
Grease the dough with just a little bit of oil, put a damp cloth over it and cover with another towel. Let the dough rest for 30 minutes. It should double in size before you can use it. It is a very pliable dough and should not give you any trouble rolling once rested well.