Russian Cutlet, known as "Kotleta" in Russian, is a pan-fried minced meat dish that contains onions, garlic and various herbs. It is definitely one of the most popular house dishes in Russia, served with side dishes such as mashed potatoes, fries, pasta, buckweat and barley. I decided to post the Russian Cutlet Recipe, because it is also one of the most favorite meals for both of my boys (right after raviolis). Very easy, delicious and totally Russian!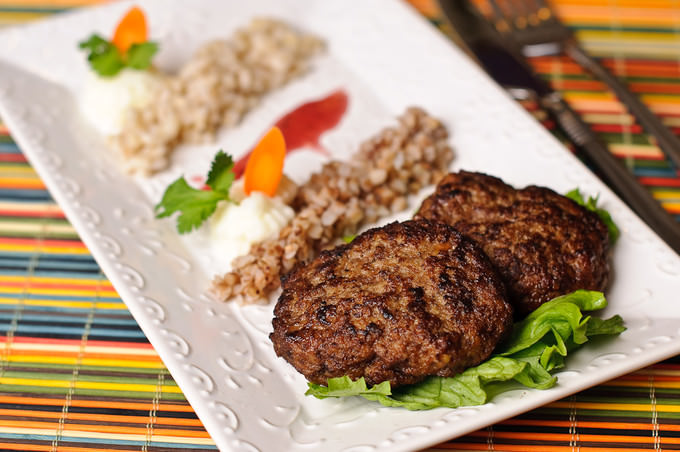 Ingredients:
1,5 lbs ground beef (I use 85% lean)
4 slices of bread (I use Italian wheat)
1,5 cups of warm milk
1 large onion OR 2 small
2 cloves of garlic
1-2 eggs
2 tsp of salt
1 tsp of ground cumin
1 tsp of black pepper
1,5 cup of oil to fry
Directions:
Preheat oven at 350F. Evenly soak the bread in the milk and set aside until needed.
YES! I am showing off my knife :) It was presented to me by my beloved husband as a gift. No, I do not believe in superstitions about not giving a knife as a gift :) Nasim knows how much I appreciate good knives and he got me one just recently. This "Shun" knife is so amazing, it cuts through things like they are all butter! Thank you honey :P
Clean the onion and the garlic cloves. Using a chopper, chop onions and garlic together for 20 seconds or so. Unfortunately, my chopper is broken. I had to opt for my old meat and vegetable grinder. I still love it though.
Grind the vegetables and grind the previously prepared soaked bread in order to have a nicely mushed mixture. You do not want anything lumping up inside the cutlets.
Place everything in a medium bowl, crack the egg, add spices (salt, cumin, black pepper), add meat and nicely mix ingredients by hand, making sure everything is absolutely well-blended. The egg is an important part of this recipe. It helps the mass to stay as a patty instead of dissolving in the oil.
Heat the skillet on medium-high heat, add oil, wait until heated. Portion the meat equal to a tennis ball and shape a nice patty out of it. Place on the skillet until the skillet is full with the first batch.
Turn over once the bottom side is nicely brown, usually takes about 3 minutes. Do not forget that you are using relatively high heat.
Once both sides are nicely brown, take out the cutlets into an oven-safe container. Pour some of the remaining oil on top of the cutlets, add a couple of TBSP of water, cover with aluminum foil and put the container into the oven.
Keep in the oven for 30-40 minutes. Take it out and serve with favorite side dishes. I usually have some mashed potatoes, barley and buckwheat and a salad as sides for cutlets. Pickled vegetables are another great choice! :)
Bon Appetit!