Very good and delicious salad for daily use. Decorated can be very pretty on your guest table, too. We used to make this salad all the time when I was back in Uzbekistan. The only difference is, we used to use green radish. Since it is very hard to find one here, I simply swap green radish with Daikon radish. The taste and the density is a little different, but Daikon adds different uniqueness to the salad.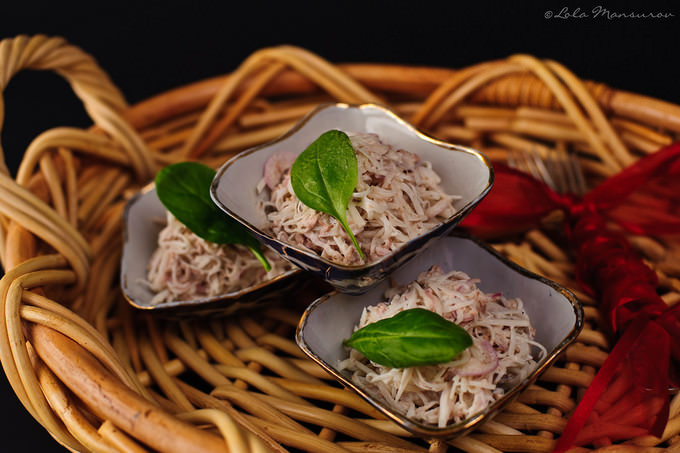 Yield: 4-6 servings
Prep. time: 1 hour (including cooking the meat)
Ingredients:
1 lb Daikon radish
10 oz of beef or lamb boiled (I do 5 oz. lamb 5 oz. beef)
1 large onion
3 tbsp canola or olive oil
3-4 tbsp of Mayo (hellmann's is the best)
dash of ground black peppers
dash of salt
cilantro, scallions, eggs for decoration if you wish
Directions:
Thinly julienne Daikon radish and boiled meat. Wash the radish and drain the water well. Cut the onion in 1/4″ half circles. On skillet heat oil and stir fry onions until light golden. In a large bowl mix radish, meat, onions, Mayo, salt and black pepper well. 
 
If you want to decorate this salad for a guest table, take out bigger plate, place the salad in the center slightly giving it a volume. Cut hard boiled eggs in circles and place the pieces around the salad. Place whole cilantro stems on top of the salad. Cut scallions into small pieces and sprinkle them all over the salad.
Enjoy!