Sometimes we crave tender, juicy and creamy dish. Motivated with such a desire we start to perform magic in our kitchens. Often we outdo ourselves by adding too much of ingredients and we end up with harsher tasting dish than we planned to cook. The next thing we do is to contemplate on reducing or eliminating some ingredients. I hope this sauteed mushrooms in cream recipe is one of the answers available to extinguish these sort of cravings.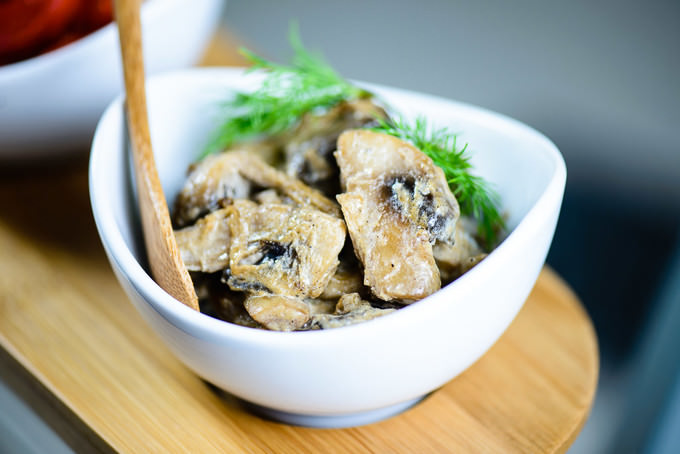 Ingredients:
1 lb. fresh mushrooms
1/3 cup sour cream
1 small onion
2.5 oz. unsalted butter
1/2 tsp. salt
1/8 tsp. black pepper

Directions:

Cut fresh mushrooms into four. Use saute pan for comfortable cooking a creamy recipe. Toss 2.5 oz unsalted butter into saute pan and melt it over medium heat.

Take a small onion in size and cut it, but not too thin. Saute onion until translucent or until you notice brownish tint.

Increase heat to medium-high, throw mushrooms, add 1/2 tsp. salt, 1/8 tsp. black pepper. Saute them until they release the moist and the moist disappears. Try not to overcook them. This is the most important part.

Add 1/3 cup sour cream, stir the content together, lower the heat and close the lid. Cook 5-10 more minutes. Enjoy!