Lamb and Vegetable Soup, also known as Shurpa (Sho'rpo) is a well-known Central Asian soup. I've prepared it to many of our American friends and every time I get very good compliments on how heart warming, rich and tasty this soup is. There are different types of Shurpa and you can use different vegetables. Another type involves pre-frying the ingredients (qovurma sho'rpo), which I am not very much fond of. I love the one which is slow cooked (simmered). Thus, I decided to share this recipe with you. I should note that everyone makes shurpa differently. If you stumble upon a different type of shurpa, do not be surprised. I chose the one with relatively basic ingredients. Most often there are chickpeas (garbanzo beans) added to give it an authentic taste. But my husband is not a big fan of garbanzo beans in this soup, so I don't add them. If you want to try, be my guest :)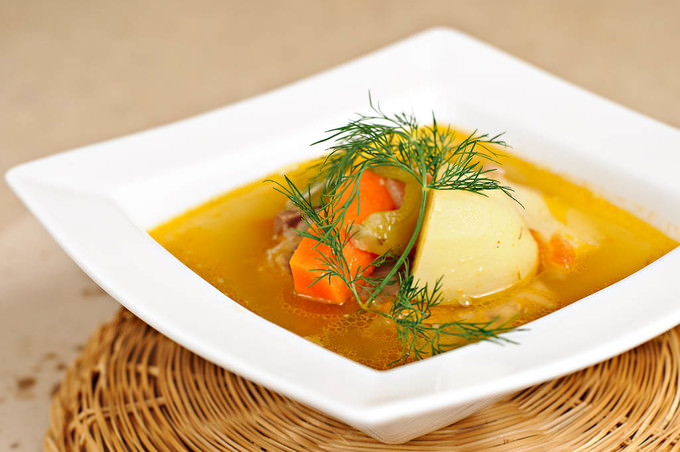 Before you start working on this soup, I need your word that you will not over-boil and keep the heat no more than on medium. The soup has to simmer and slowly cook for a lengthy period of time. The broth of the soup should be clear. You do need to have some time in your hands. This soup is great if you have a group of people you want to feed. You can use a large pot to make a big portion, enough to feed a big party :)
Yield: 4-6 servings
Ingredients:
1-2 lb fresh lamb, preferably on the bone
1 large onion
1 medium tomato
1 medium carrot
1 green bell pepper
2 potatoes, 4 medium potatoes are ideal. But I am trying to cut our potato intake to a minimum.
10 cups of plain water and 11 cups of pre-boiled water
1 cup of chickpeas previously soaked in water  (optional)
salt
1/2 tsp pepper
1/2 tsp cumin
Directions:
Wash the lamb on the bone and place it in a large pot. Pour over 10 cups of water and bring the water to boil in medium heat. As soon as the water starts slightly boiling, discard the water. I do this in order to reduce the smell that lamb meat usually has and to clean out the meat to have a clear bullion.
Once you emptied the pot return it back to the stove and add 11 cups of pre-boiled water. Bring it to boil again but keep the heat on medium. Do not overboil the water. When the water starts boiling, more foam will appear on the surface of the soup. Using either a spoon or a spatula, remove the foam. The water of the soup should be clear. Keep on simmering the soup in medium-low heat. Cover the lid of the pot half way and cook the meat for at least 2 hours.
Clean all vegetables, wash them and cut them accordingly: cut the onions in half circles. Thinly slice tomato, cut carrots in smaller pieces, julienne green bell peppers, cut potatoes in half (if smaller) or in fours.
Open the lid of the pot and turn the heat to medium. When the meat is almost cooked, first add onions to the soup. Stir in the cumin, black pepper and salt as desired. Cook onions for about 15 minutes and add tomatoes. Cook for another 10-15 minutes.
When the tomato slices are nice and soft, add the remaining vegetables and cook until they are soft enough to be consumed (for approximately 20 minutes).
Place equal portions of vegetables to meat and pour over the soup. You can also shred the meat and get rid of the bony part. Serve with dills or cilantro. Viola!!!
Bon Appetit :)