Somsa, Samosa, Sambusa
This recipe is for preparing "Somsa", which is also known as "Samosa" or "Sambusa" in some parts of the world.
Like any other Uzbek family we like Somsa a lot. While there is a way of making special flaky dough for Somsa at home, lately I started using ready puff pastry. For someone with 2 kids, I do not have a luxury of time to take it the long way, which is to make layered dough myself. So from time to time, I do opt for easier solutions. By the way, some people might think that it is cheating to buy ready dough than to make it yourself. I personally think that if you can get your hands on quality pastry dough, there is nothing wrong with using it, especially if it saves you a lot of time. Sometime this week I will post a recipe of home made puff pastry dough, which is very easy to make.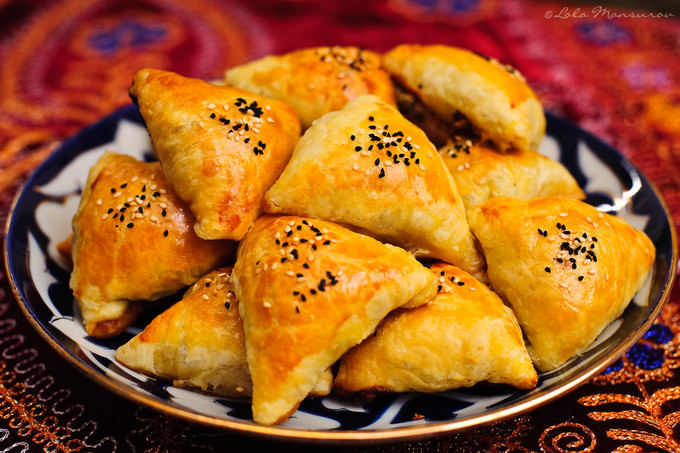 Yield: 30 Somsa
Prep. and cooking time: approx. 2 hours
Ingredients:
1 pack puff pastry dough
1,5 lb fresh lamb meat
2 large onions
2 tsp salt
1.5 tsp cumin
1 tsp ground black pepper
1 egg mixed+2 Tbsp water
black and white sesame seeds (optional)
little oil to grease the pans (optional)
Directions:
First fix the filling. Using a nicely sharpened knife to cut the lamb into very small cubes.
You can hand cut onions if you wish but I opt for an easier and faster way of doing so with my little vegetable chopper. Cut onions into smaller chunks to fit the chopper. Chop the onions and add them to the meat.
Add salt, black pepper and cumin to the meat mixture and mix well by hand.
Put the filling to the refrigerator and start working with the dough.
Puff pastry pack usually comes in 10 square doughs. Due to nature of the puff pastry it puffs and flakes very well when you bake it. For the right size Somsa you should always divide the squares into fragments. Otherwise, you are going to end up with croissant rather than Somsas. For that I roll each square and cut it into 3 small identical rolls. I press the rolls evenly to create a circle. This will make it easier to roll the dough. If you are using conventional method of making the dough, you will need to put the dough into the refrigerator for at least a half hour. With the pastry dough, you just go ahead and circles. The size of the circles, should not exceed 4 inches in diameter. Some people choose not sprinkle flour on the working surface. But I like my dough not to stick. So, whenever I need, I do spread some flour.
Once you are done with rolling the dough, lay them out and put some filling in the middle of each one of them. Here you need to preheat the oven to 420F.
A lot people prefer different shapes of Somsa. My family members like the regular triangular style. So, make out the triangle buy bringing three sides together and pinch the borders with your hand.
Oil the pans you are going to be using. Put the Somsas smooth side up. Mix the egg well with 2 Tbsp of water and brush it over the Somsas to create nice golden cover. Sprinkle the sesame seeds and put the tray into the oven.
Bake them on 420F for 20 minutes and turn the heat down to 350F and bake for another 15-20 minutes or until golden brown. Usually, I use two baking pans for thirty Somsas. This way one of the pans go higher than the other. You still want them to get equal amount of heat and you do want them to bake in equal amount of time. So, do not forget to alternative the pans once or twice.
Enjoy!
P.S. If you happen to make any of my recipes. I would really love to hear your feedback.