For those who like to utilize their pressure cookers, I present a very easy way of making Uzbek Palov (a.k.a. Uzbek Plov, Pilav, Pulav, Pplof, Osh). It has a unique taste and comes out perfect every time I make it. The main thing I like about making Palov by using my pressure cooker is the tender taste the meat gets after being cooked under pressure with multiple spices. Plus, the amount of time I save while using this method is amazing.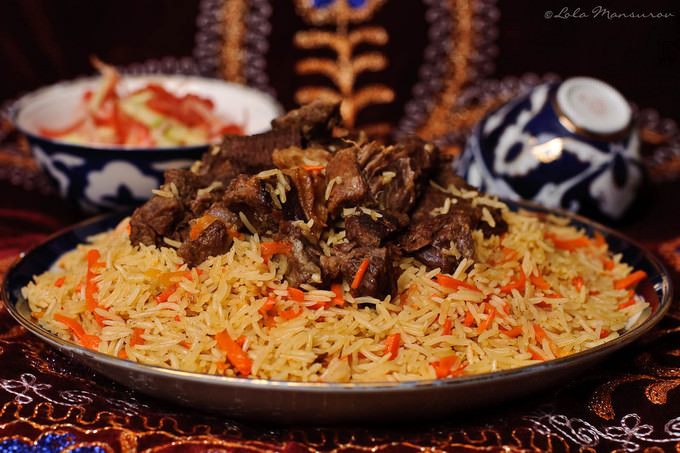 There are many recipes of Uzbek Palov on the Internet. Palov is a traditional Uzbek main course food. If you ever visit Uzbekistan this is probably the most common food you will encounter. But one thing you will not find in Uzbekistan is Palov made in a pressure cooker :) This is the method I learned in U.S.
Uzbek Palov as we know has many ingredients. If you do not see those ingredients in my recipe, do not jump into a conclusion that this is not the real deal. Let's not forget that every region in Uzbekistan has it's own version of Palov. Except for basic ingredients I believe that every recipe should be altered according to your taste. If you do not like certain ingredients, you should always feel comfortable to either swap them or omit them without feeling any pressure. Personally, I do not like raisins, barberries or eggs in my Palov. Chickpeas are a different story, but our family likes the chickpeas in a different dish called "Nohat sho'rak", which I will post a recipe for sometime later. Just in case, I added chickpeas to this recipe.
Rice is the most important part of any Palov. Living abroad creates its own difficulties in finding the right and essential ingredients for any ethnic kitchen. I have used many different rice brands and types in my cooking endeavors. Every time I cook, I rely on my family's feedback about each meal. If they really like it we stick with it. If they do not like it, we try something else. After much trial and error I now use separate types of rice for Palov and a different type of rice for all other rice-including meals.
RICE I am currently using Saleem Caravan, Super Golden Basmati rice. Product of India. It can be found in many international markets. We buy it from a local Turkish store.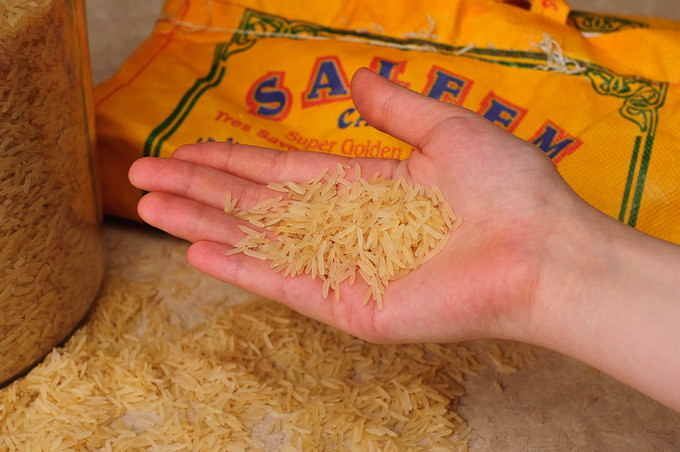 Here is the information about the rice from their web site:
Rice is naturally delicious, with complex carbohydrate and low glycemic index. Basmati Rice is finest rice, produced in Some Parts of Pakistan and India. The main Characteristic of Basmati rice are, that it is Long Grain, Non-Glutinous, Slender ,very Aromatic and excellent in cooking and taste. It has been cultivated for many centuries in hot and humid climate of Punjab along the rivers Ravi, Jhelum, and Chenab in Pakistan. The word Basmati come from Panjabi language meaning "smell of soil", so soil where it cultivated plays a huge role in Basmati finest Characteristics.

Pakistan Produces two Verities of Basmati : Supper Kernel Basmati and PK 385 Basmati .These both varieties are pure 100% Basmati Rice, These varieties are the basic or building block for other modified basmati rice being sold in the international market under basmati name.

We at "Saleem Caravan" Put every effort possible in place to maintain the purity and try to preserve the finest characteristics of BASMATI RICE.

Fat free*. Cholesterol Free. Sodium free.
Even if the rice is all fancy and healthy, Palov is most definitely NOT a diet food. It all depends how carb-happy you are. Since it is very filling, overeating happens very rarely. So, let's hope you will not go over the board :D
I must say, I really find this Saleem Basmati rice delicious and well suitable for making Palov. It doesn't have the heavy smell that most Basmati rices have.  If for any reason you cannot find this rice, try "Jasmine" rice or any other Basmati rice from middle eastern markets.
Some of the rices I tried from local grocery stores were Japanese rice "Botan", Italian rice "Arborio" and Turkish rice "Baldo". These are the closest I could get to our Uzbek rice. I use "Botan" and "Baldo" for other dishes now. "Arborio" did make a very good palov but it was awfully expensive compared to other rice types. Plus, if you would like to use "Botan", "Arborio" and "Baldo", you should previously soak the rice in warm water (at least for half an hour) to get some of the starch out as they are very rich in starch. Water intake of every rice is different. Most likely all Basmati rice types will use the same amount of water in Plov but it might vary for other rices. To be on the safe side with other types of rice, make sure that the water level is at least 1 inch above the rice level.
CARROTS: The Tashkent version of Palov calls for yellow carrots. Aside from not being able to find yellow carrots where we live, my husband much prefers orange carrots. But if you can find yellow carrots, go ahead and try to use those. They take a little longer to cook than their other counterparts though.
PRESSURE COOKER: Any pressure cooker can be used for this recipe. Knowing your pressure cooker will help you a lot here. Not all pressure cookers use the same amount of time to have desirable results. I will give you approximate numbers for most pressure cookers. What I like about pressure cookers is that they cook any meat to tender perfection. I still choose lamb over any other meat type for Palov, but if you wish to use beef or chicken, the results should not be disappointing. The only difference is, every meat type will have its own cooking time.
CHICKPEAS: If you are using them in your Palov, soak 0.5 cup of chickpeas in 2 cups of lukewarm water for 5 hours. If you wish, you can leave them overnight and use first thing in the morning.
GARLIC: I didn't add garlic to this recipe but if you wish to use garlic, you need to get a whole garlic bulb. Wash it well, cut little imperfections without hurting the texture of the bulb. You can even peal off some of the outer layers to make it easier for moisture to get through.
Yield: 6 servings
Prep. and cooking time: 1 hour
Ingredients:
1.5-2 pounds of fresh Lamb meat
2 medium onions
5 medium size carrots
3.5 cups of rice (Saleem Basmati)
1 tsp of ground cumin
0.5 tsp of whole cumin
1 tsp of freshly ground black pepper
3 tsp of salt
6.5 cups of water (previously boiled)
chickpeas and garlic bulb (optional)
200 ml of canola oil
Directions:
note: you can click on the below images for a larger size photo.

Cut the meat into 2×2″ cubes. Slice the onions in 1/4″ half circles.
Once the meat and onions are ready, heat the pressure cooker on medium high heat + heat the oil and start frying the meat. Add salt, ground cumin and black pepper.
Fry until slightly brown on all sides and add onions. Fry onions along with the meat until onions are soft and golden brown. Add all the water, mix it and close the lid of the pressure cooker. Cook on medium-high heat for about 15-20 minutes. If you are using beef then you should give it a good 30 minutes to cook well.
Meanwhile prepare the carrots for the next step. Clean, wash and julienne carrots like in the above pictures.
Once the time is up for the pressure cooker, open and empty it to another large nonstick pot (or Kazan) and put the pot back on the stove (medium heat). There will be no need to wait for the water to boil, since it is going to be pretty boiled up in the pressure cooker :) Place the carrots evenly on top of the meat and onions, but do not mix anything. Leave the pot like this for 15 minutes on medium heat.
Note: if you are using chickpeas and garlic, this is the time to include them. Rinse the chickpeas that were previously soaked in water and distribute them over the carrots. Drop the garlic. Usually garlic is removed once rice is added and just left on top of the dome you will be creating out of the half-cooked rice. I would suggest to leave the garlic on top of the carrots until the Palov is ready.
Wash the rice well at least 2-3 times. Drain the water and using a spatula place the rice over the carrots evenly.  The water that was initially added into the pressure cooker should be enough for the whole process. But if the water does not cover the rice (1 inch above) feel free to add a little more water.
All Uzbek recipes let the water evaporate with the lid open. It takes awful a lot of time and I do not find it necessary. Close the lid of the pot and in medium-high heat let it stand for 10 minutes or until the rice absorbs the water.
Check every 2 minutes, because you do not want the bottom of the Palov burnt. In about 8 minutes, flip the top layer of the rice to keep the rice evenly moist. Once the water is absorbed, make a dome of rice and sprinkle whole cumin on top. Lower the heat to 2 (low), close the lid again and keep it that way for another 10 minutes.
In 10 minutes remove the lid and try the rice. If it is well-cooked, then mix the ingredients well. Not that fast! :) If you used garlic, this is the time to excavate it. Some people also like to take the meat out, cut it in smaller pieces and put on top of the Palov. So, mix the content of the Palov together well. If the rice feels a little undercooked, do not hesitate, sprinkle some water and close the lid again for 5 minutes (or the desired amount).
Serve it in a Lagan (traditional Central Asian large plate) and put meat and garlic in the middle. Garlic comes out easily. It is should be well-cooked and delicious.
Serve with fresh vegetables or a spring salad, pickled tomatoes and pickles cucumbers.
Enjoy!