OK Gals and Pals. Let's admit that many of us have hard time choosing what to prepare for breakfast. Just breakfast is half way of the trouble! Knowing how to make a healthy breakfast is the biggest dilemma. This Veggie Scramble is approximately 242 calories! Should I go on? It is delicious, filling and absolutely healthy! It has fat, protein, carbohydrate that we need for a perfectly balanced breakfast. Most of all, it is good for me (as in it is good for everyone)!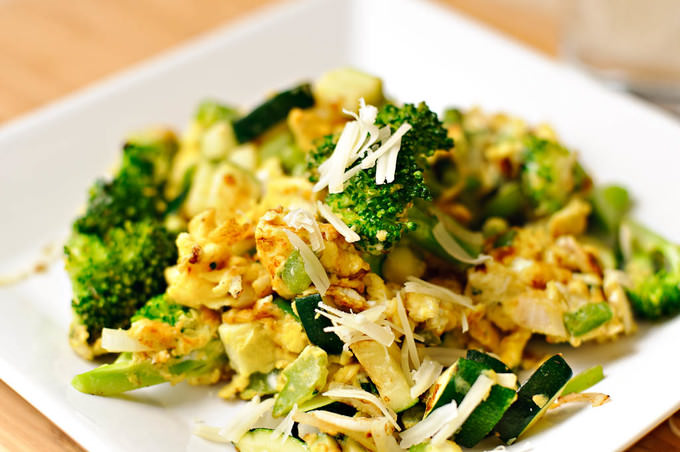 I might as well confess that I do count my calories and work out like a crazy horse. Ehm, latter was a little exaggerated but I am very much fond of working out almost everyday. Reality of the matter is, I need to loose weight after having two babies and need to make an every effort to lead a healthier lifestyle. Where does it start? In the kitchen! Who does it effect? Everyone in your family!
Never did I need to loose weight and never did I think twice of the food I was consuming (I was never a big fan of sweets before though). Until after I got married and gave birth to two beautiful baby boys. Weight came on, responsibility as a mother and a wife hit the home run. If you respect yourself and love your family, you have to take care of yourself. You owe that to your beautiful self.There I understood that making healthier and better choices is what I need to prefer. Now, you will browse my recipe blog and come across with ample amount of recipes with bazillion calories. There is no way I can live on 1200 calorie diet for many, many years. My motto? Put healthy ingredients, cook from scratch, share it with love with your friends and greater family. Even go to extra mile explaining your guests what ingredients you have put in a certain recipe and explain the importance of pre-portioning. I know, I know that sounds like pushing it. But there is nothing like giving it a try :) My aim is not to offend anyone. My aim is to take care of my close ones. It will never happen overnight. But small baby steps can get you far longer than you think.
As my mother-in-law started living with us, I understand the idea of solidarity even more. She has type 2 diabetes and she has a strict diet. We consume food from her diet to make her comfortable in our house and go a little astray together, too :) But we do keep each other accountable. We go back right where we started!
However, healthy diet is not the only thing I worry about. As we age our body ages, too. Duh! To keep it young and beautiful, we need to exercise…I need to exercise.
I went through a lot of programs which helped me tremendously. But I only find a true comfort in chaLEAN Extreme. No offence to other programs I used from beachbody.com. But everyone has their favorites, right? :) I didn't make up this Veggie Scramble. It came in a brochure with chaLEAN Extreme. I am extremely thankful to Chalene for letting me share some of the recipes from the book with my audience. If you decide to get the program you will gain a lot more than what you pay for it. At least I did! How about a kick butt cooking book with balanced food and off the roof work out routine to rock your body? :)
Well, I am not perfect, but I strive to get better than I am.
Ingredients:
1/2 of a green zucchini, diced
1/4 of a red or green bell pepper, diced
3 to 4 broccoli florets, chopped
1/4 red onion, chopped
1 large whole egg whisked together with 3 egg whites
1 oz. grated Parmesan cheese
nonstick cooking spray
Directions:
Heat a nonstick skillet coated with nonstick cooking spray over medium heat. I use the higher heat resistant oil. Add all vegetables and sauté for about 3 to 5 minutes until they begin to soften. I used green bell peppers and used regular onion since I didn't have the red one handy.
Add in egg mixture and scramble together. Continue to cook until eggs are cooked through, about 3 to4 minutes. Remove from heat and sprinkle with cheese.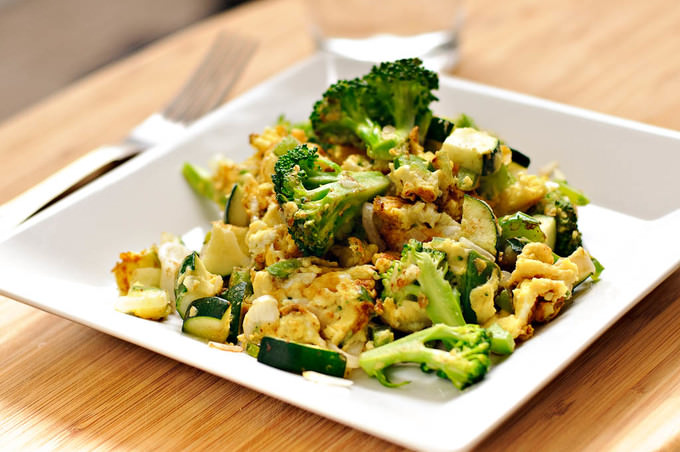 Easy, breezy, healthy super breakfast! :) Enjoy!